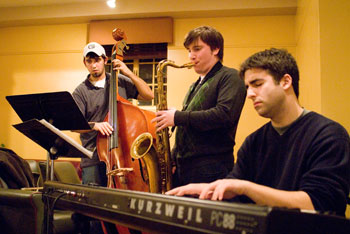 Mike Knowles, bass, Tom Wise, sax, and Dan Campolieta, play jazz at Lu's Café. Fine arts jazz students perform each Thursday evening at 9 in the Family Studies Building café.
Photo by Peter Morenus
January 29, 2007 ¦ Volume 25, No. 18

UConn professor named dean of law school
Jeremy R. Paul, a faculty member at the School of Law since 1989, has been named the dean of the school, after an extensive search process. He will assume the deanship on April 27. Read more...
Interim vice president appointed to permanent position
Barry Feldman, who has served as interim vice president and chief operating officer since May 2006, has been officially appointed to the position, after a nationwide search for a successor to Linda Flaherty-Goldsmith. Read more...
New policy will clarify electronic privacy requirements for University web pages
UConn officials next month will ask the owners of tens of thousands of University-based web pages to add a link to those pages that will lead users to a new privacy statement and policy. Read more...
Former U.S. Rep. Kennelly to speak at Dodd Center
Former U.S. Rep. Barbara Kennelly and Edward Silverman, managing director and head of public policy for RBS Greenwich Capital, will participate in a conversation, "Of the People, By the People, and For the People: The Role of Business and Non-Profit Agencies in the Creation of Public Policy," on Thursday, Feb. 8. Read more...