When Alan Marcus was a high school social studies teacher, he noticed that during discussions students would relate various topics to movies they had seen.
"They'd quote from films and talk about the themes," says Marcus, an assistant professor of curriculum and instruction who specializes in social studies education.
"I saw what a powerful influence they were on how students thought about the past."
That sparked Marcus' interest in researching how students were making sense of the past through film.
He did his dissertation at Stanford University and conducted a year-long study on the subject in two U.S. history classes in Connecticut high schools.
Now he has edited a new book, Celluloid Blackboard: Teaching History With Film.
"Students are consuming an enormous number of Hollywood feature films outside the classroom," he says
. "Many of them are about specific historical events, or are strongly based in the past. For example, the research shows that 78 percent of students had seen Forrest Gump; 67 percent had seen Pearl Harbor; 67 percent had seen Apollo 13, and 55 percent had seen The Patriot.
"Teachers need to understand that students are coming into the classroom with a lot of information about the past from these films, so it makes sense for them to think about that when teaching social studies and history," Marcus says.
"Films have powerful narratives, and are potentially interesting ways for students to develop historical empathy with people."
While Marcus says there are challenges in using film, including Hollywood conventions such as distortion of time and an emphasis on good versus bad, he says it is an important tool in the classroom.
When students graduate from high school, very few will take another formal history course, "but they'll be watching films for the rest of their lives. Also, film can be a very powerful way to learn about history - it can bring history to life in a way the textbook cannot.
That's why I believe teachers should be helping students develop their media literacy skills. I call it historical film literacy."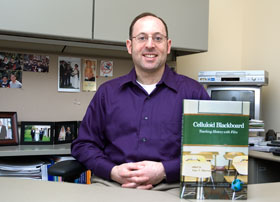 Alan Marcus, an assistant professor of curriculum and instruction, with Celluloid Blackboard, the book he edited about teaching history through movies.
Photo by Stephanie Gagliardi
Marcus' research showed that students rated feature films as less trustworthy than textbooks and teachers.
"They always talked about the teacher and the textbook as completely believable and accurate," Marcus says, "and they talked about feature films as being less trustworthy, because they understood that films were made for entertainment and to make money.
They reported that the only thing less trustworthy and believable were their fellow students.
"But what was interesting in both studies is that when they saw specific films in class, they didn't question the content or the narrative that was in the film," he adds. "They took it as fact."
Marcus says there appears to be "a disconnect" between students' overall beliefs about film, and the specific films they were shown, "because the teacher chose the film and they had faith in it."
Also, he notes, the teachers did not use other sources with the films that in any way contradicted the facts as shown in the film.
"Never rely on a film in and of itself to teach," he says.
"Use films as part of a larger set of sources. For example, if you're showing the movie Glory , use other documents such as war photos and letters from soldiers."
Marcus says that films about real people or real events were more believable to students. Iron Jawed Angels , a film about the women's suffrage movement focusing on Alice Paul and Lucy Burns, was ranked by students participating in the Connecticut study as the most believable of the films they were shown.
Marcus was recently named associate editor for the journal Film and History, and will be the guest co-editor-in-chief of its 2009 issues.