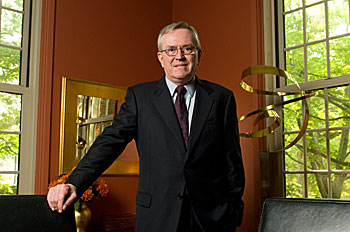 President Philip E. Austin at the William Benton Museum of Art.
Photo by Peter Morenus
January 16 , 2007 ¦ Volume 25, No. 16

President Austin stepping down
University President Philip E. Austin has announced that he plans to resign the presidency in September and, following a sabbatical, return to teaching as a tenured member of the economics faculty. Read more...
New clinical leadership announced at Health Center
Dr. Peter Albertsen has been named medical director of the UConn Medical Group, a 350-member multi-specialty physician practice, and James Thornton has been named director of the 224-bed John Dempsey Hospital, creating a new leadership team for the Health Center's clinical enterprise. Read more...
Biologist engaged in national debate over theory of evolution
Kent Holsinger, professor of ecology and evolutionary biology, has seen his role evolve this year, from researching and teaching evolutionary biology to speaking out nationally on behalf of the theory on which it is based-evolution. Read more...
Pathobiologist named director of Connecticut Sea Grant program
Pathobiology and veterinary science professor Sylvain De Guise has been named director of the Connecticut Sea Grant College Program at the University's Avery Point Campus. Read more...