Robert E. Diamond Jr. has always made the tough calls.
In Little League, he chose to be a catcher; in football, a lineman.
When he graduated from UConn in 1977 with an MBA, he eschewed working for a major firm and took a position with a small medical supply company where he could learn more roles.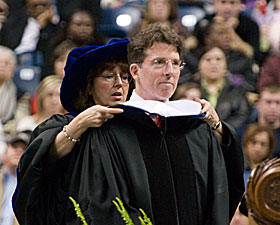 Sally Reis Renzulli, professor of educational psychology, hoods Robert Diamond Jr. as he receives an honorary degree during Commencement Dec. 17.
Photo by Peter Morenus
Even when he made the move to Morgan Stanley, he chose to start at the bottom and work his way up.
Today, he's president of Barclays PLC.
"It's easy to go for the immediate reward. Choosing what might be better in the long term is a risk, and that's a much tougher call," Diamond told about 700 students who participated in the University's fourth mid-term Commencement on Dec. 17.
"But (my dad) taught me that taking a risk and making tough decisions was important if you want to succeed."
Barclays PLC is a major global financial services provider involved in retail and commercial banking, credit cards, investment banking, and wealth management.
Diamond became an executive director of the boards of Barclays PLC and Barclays Bank PLC in 2005.
He is also chief executive for the investment banking and investment management businesses comprising Barclays Capital, Barclays Global Investors, and Barclays Wealth Management. He joined the London-based firm in 1996.
Crediting his father for shaping the principles that guide him today, Diamond, who received an honorary Doctor of Humane Letters degree during the ceremony, urged the students to strive to be the best at whatever they do. He said it is especially important today, with global competition for jobs.
"I moved to London with Morgan Stanley in 1988, I went to Tokyo for Credit Suisse in 1992, because in those days, America was ahead of the rest of the world. In those days there was a real advantage in having an American education and American business experience. We were sent out to teach the world," he said.
"Today, that's not the case. Today there's a global talent pool to draw from. The number of graduates we recruit in India, Russia, and China has tripled in the last three years, and that isn't just for jobs in those markets, it's also for roles in London and New York," he said.
"That means you're going out into a much tougher market than I did 30 years ago, so it's all the more important that you find the space where you can really contribute."
Diamond, who grew up in Concord, Mass., attended Colby College before enrolling in UConn's School of Business in 1974.
He earned a master's degree in business administration in 1977, graduating first in his class, and served as a lecturer during the 1976-77 academic year.