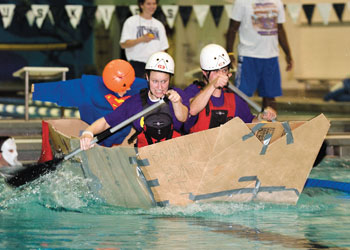 Seniors Collette Opsahi and Timothy Scheer of team "Banana Boat" paddle their way toward victory in the annual student Halloween Cardboard Canoe Race at Wolf-Zackin Natatorium.
Photo by Peter Morenus
November 6 , 2006 ¦ Volume 25, No. 11

New dean appointed at Dental School
Dr. Lamont "Monty" MacNeil has been named the new dean of the School of Dental Medicine. He was appointed by University President Philip E. Austin, and Dr. Peter Deckers, executive vice president for health affairs and dean of the School of Medicine. Read more...
Native American land plagued by environmental damage, speaker says
In honor of Native American Heritage Month, two guest speakers recounted Wednesday night the tribulations of the Lakota Sioux and the Black Seminoles at the hands of early United States governments. Read more...
Voting machines vulnerable, says report by UConn faculty
UConn faculty members contracted by the state to evaluate the security of new voting machines to be used in some Connecticut municipalities on Nov. 7 have issued a report identifying vulnerabilities in the system which, if exploited maliciously, could affect the outcome of the election in those precincts. Read more...
Tri-Campus Task Force to hold public discussions at three campuses
Members of a task force considering the status and future of the Tri-Campus will hold public discussions with faculty, staff, and students at the three constituent regional campuses this week. Read more...
More headlines...