The recording industry has long thrived on being in the Billboard Top 100.
And now, being in the iTunes Top 100 carries the same cachet for podcasts - audio and video programming available from iTunes and other providers.
Last month, a podcast on animal behavior produced by a UConn psychology professor cracked the iTunes Top 100 higher education podcasts.
David Miller is no stranger to using technology to enhance his teaching. He's been using multimedia in his classrooms for years.
When he started using an iPod Nano in fall 2005, he found he had another tool at his disposal.
Miller, associate head of the psychology department, discovered podcasts while checking out the iTunes online music store.
He soon found that a number of colleges and universities are using iTunes as a means for providing course material and information to students.
"I started [doing podcasts] about a quarter of the way into the fall '05 semester," says Miller.
"I was driving to campus one day. I had to do a review session, and I thought 'hey, if I recorded this, then everyone who's not there will be able to benefit from it too. So I did, and it snowballed from there."
Miller now produces three podcasts: Animal Behavior, a weekly discussion with honors graduate students in his class on animal behavior; iCube, for his introductory psychology class; and most recently, a series of "pre-casts" - a term he coined - also meant for the introductory psychology class, but with enhancements.
For the pre-casts, Miller makes modifications to PowerPoint slides he has already prepared for his classes, and includes them as a visual component for the podcast.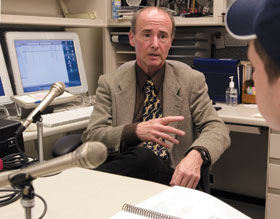 David Miller, professor of psychology, records a podcast at his office with a student.
File photo by Peter Morenus
They can be viewed online, or on a video iPod.
"They give students a heads up about what's going to happen in the next class," he says, "things to look out for, things to pay attention to. They're by no means a replacement for coming to class."
The Animal Behavior podcast appeared at number 78 in the Top 100 podcasts for higher education, although Miller suspects it may previously have been ranked higher, because he only began checking the list recently.
Miller says he would like to see the use of podcasts expand at UConn.
He will discuss his experiences of podcasting during an Institute for Teaching & Learning workshop on Nov. 10.
The session has a waiting list.
There are two other UConn-based podcasts on iTunes: the Lumberyard Journa , a WHUS program that features writers; and New UConn Student Information, a series for entering students produced by Stuart Brown at the Waterbury campus.