Peter Sacco, associate professor of music and director of orchestral studies, died Sept. 20 at New Haven Hospital after a short illness. He was 59.
Sacco, a violinist and conductor, lived in Madison.
David Woods, dean of the School of Fine Arts, says Sacco was "a dynamic force in the School of Fine Arts and the Department of Music, an outstanding musician, an excellent teacher, and a warm human being.
He was a visionary and he always thought outside the box. His ideas have had a profound impact on this school. We will miss him, his smile, his tenderness, and his warmth."
Music professor Kenneth Fuchs, head of the department, says it was a "privilege and pleasure" to have Peter Sacco as a colleague
"He was a dedicated member of the faculty, an inspiring teacher, and an extraordinarily gifted musician," Fuchs says.
"He brought a keen professional perspective to the orchestral and chamber music training programs, and was beloved by the students for the determination and sense of urgency he brought to his teaching."
Glenn Stanley, professor of music, said Sacco was a "great musician, a great teacher of music, a great humanist, and a great office neighbor. We in the music department, the School of Fine Arts, and the University community were very fortunate to have him with us. He is irreplaceable, but his work will continue to inspire us for years to come."
Sacco, who joined the UConn faculty in 1997, graduated from the Juilliard School in 1964, the University of Texas at Austin in 1970, and the Yale School of Music in 1974. Before coming to UConn, he taught at Connecticut College and Wesleyan University.
He was co-founder of Summer Music at Harkness with his wife Cynde Iverson, and was music director and principal conductor of the Connecticut Orchestra.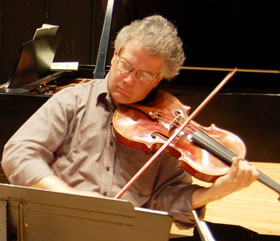 Peter Sacco rehearsing in von der Mehden Recital Hall earlier this year.
Photo by Peter Bagley
He was associate conductor of the New Haven Symphony, guest conductor of the Hartford Symphony, resident conductor of the Sacramento Symphony, and music director of the Connecticut Youth Symphony.
He was a founding member and first violinist of the Alexander String Quartet, and played violin in the New York Chamber Symphony, the Mostly Mozart Festival Orchestra, the American Ballet Theater Orchestra, and the Santa Fe Opera Orchestra, among others.
He was also a composer, with compositions premiered by the New Haven Symphony and the Connecticut Orchestra.
Sacco was an avid bicyclist and had recently completed a 100-mile ride, "The Flattest Century in the East," in Tiverton, R.I.
He loved reading and engaging his friends in discussions on a wide range of topics.
His friends especially appreciated his trenchant wit, his passion, and his commitment to excellence.
On Oct. 27, a concert by the University Symphony will be held in his memory.
Directed by Professor Jeffrey Renshaw, the concert will take place at 8 p.m. in von der Mehden Recital Hall.
Sacco is survived by his wife and three daughters, Arianna, Janine, and Olivia.