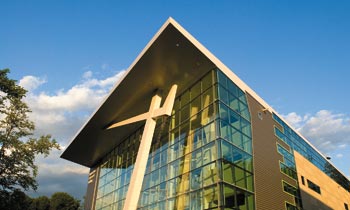 A view of the Medical Arts Research Building, or MARB, at the Health Center.
Photo by Peter Morenus
July 24, 2006 ¦ Volume 24, No. 34

Tight budget poses challenge
With extremely challenging budgets for both the Storrs-based programs and the Health Center this year, the University's primary goal is fiscal stability, according to Lorraine Aronson, vice president and chief financial officer.
Changes in University by-laws address faculty, student issues
Several changes to the University's by-laws have been approved by the Board of Trustees, including a provision that revises the language allowing appointment of Distinguished Professors.
New director at Waterbury
William J. Pizzuto, interim director of the Waterbury campus since 2004, has been appointed its director. The appointment was effective July 7.
Adjunct engineering prof named to Italian government post
Luigi "Gino" Nicolais, an adjunct professor with UConn's polymer program since the 1980's, has been named Minister of Innovation and Technologies in the new government that took office following the defeat of former Prime Minister Silvio Berlusconi's ruling party in Italy's national elections.
More headlines...