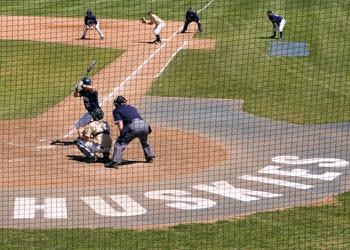 A baseball game against Notre Dame at J.O. Christian Field on April 30. The game ended in a tie, but the men's baseball team won its most victories ever in a single season, and placed second in the Big East. Head coach Jim Penders won the title Big East Coach of the Year.
Photo by Peter Morenus
May 30, 2006 ¦ Volume 24, No. 32
The online version of the next issue of The Advance will be posted Monday, June 19 in the afternoon.

Land to be sold for downtown development
The Board of Trustees on May 15 approved the conveyance of approximately 50 acres in the vicinity of Dog Lane and South Eagleville Road to the developers of a commercial, retail, and residential village planned for the site.
Health Center, Law School students graduate
Commencement ceremonies were held May 14 at the Health Center in Farmington and May 21 at the School of Law.
Social work school lauded during reaccreditation
The School of Social Work has been reaccredited for another eight-year period by a national council that found much to praise and virtually nothing to criticize.
New design selected for Husky One Card
A design by junior Ai-Chi Lu has been selected as the new face of the Husky One Card. It was selected from about 180 designs submitted by UConn students in a contest run by the One Card office.
More headlines...