More than 30 graduate students in marine sciences presented their research findings during the Feng Colloquium at the Avery Point Campus recently.
The event marked the 10th anniversary of the daylong research meeting named for the first head of the Department of Marine Sciences, Sung Yen Feng.
Feng, an authority on shellfish and shellfish diseases, remained active in research during his tenure as department head (1979-1985), and "sought to provide the intellectual atmosphere which would bring out the best in graduate students," according to remarks made by Professor Robert B. Whitlatch at the first Feng Colloquium in 1996.
Feng, who was a professor at UConn for 23 years and who fought for the creation of the Department of Marine Sciences, died in 1989.
His widow, Jean Feng, in 1992 established an endowed scholarship fund for oceanography graduate students.
Alejandro Arias, a Ph.D. student working with faculty member Annelie Skoog, said the Feng endowment "helped me a lot when I came here" two years ago from the Universidad Autonoma de Baja California in Mexico, where he earned his undergraduate and master's degrees.
His research is related to understanding the cycling of organic matter in water and sediments.
Diane Bennett, a second-year Ph.D. student, received an award from the Feng endowment to attend the 15th National Summer School in Geophysical and Environmental Fluid Dynamics in Cambridge, England, last fall.
"It was really a cool opportunity," she said. One of four Americans out of the 30 or so students at the summer school, she attended an intense series of lectures, which she likened to packing a semester's worth of work in oceanography into two weeks.
Bennett, whose adviser is Professor Jim O'Donnell, studies how currents and the circulation in the Long Island Sound allow the re-supply of oxygen in the water.
She gave a presentation on the "Dynamics of Circulation in Long Island Sound" at this year's Feng Colloquium.
Another presenter, third-year Ph.D. student Dirk Aurin, talked about ocean color remote sensing, or using a colored light signal in the water to study phytoplankton production and the sediment of coastal waters such as the Long Island Sound.
The deep oceans are studied from satellites, he said, but "the coast is really a frontier for ocean color remote sensing right now."
Aurin, whose adviser is Heidi Dierssen, has presented posters or papers at national scientific meetings.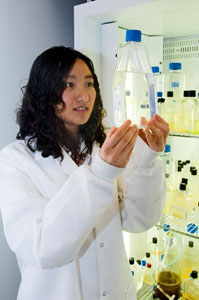 Ph.D. student Yubo Hou conducts research in her lab at Avery Point.
Photo by Daniel Buttrey
But for many students, he said, the Feng Colloquium is "their first opportunity to stand in front of a big group and get feedback, and learn what everyone else is doing."
The colloquium is organized by graduate students, with the help this year of Professor Hans Dam.
They prepare manuals for the other students on how to make a scientific poster or oral presentation.
Dustin Kach, a second year master's student whose adviser is faculty member Evan Ward, was on the student committee and presented a poster on "Ingestion of Marine Aggregates by Suspension-Feeding Molluscs."
Kach was an undergraduate coastal studies major at Avery Point, and presented a research paper at the colloquium then, too.
Another master's degree student, Jeff Mercer, has dived under the Sound and worked in the laboratory under Whitlatch to study a type of sea squirt, Didemnum sp., that is invading Long Island Sound. When he finishes his degree, he plans to join the environmental police force in his home state of Rhode Island.
M. Maille Lyons, a Ph.D. student working with Ward, talked about "Deadly Marine Snow," particulate matter in the water that can contain a bivalve pathogen that kills clams such as the northern quahog, littleneck, and cherrystone.
So far, this has been a problem in Massachusetts, but not Connecticut, she said.
A fifth-year graduate student, Lyons is writing her thesis on the role of marine aggregates in disease transmission.
Yubo Hou, a Ph.D. student who presented at the colloquium, previously studied oceanography as an undergraduate in China at Xiamen University.
Working with adviser Senjie Lin, she now studies the Long Island Sound at the molecular level, isolating a gene from algae that is associated with fish kills, and using it as a marker to determine the abundance of the species in the ocean.
The species formed a bloom in Oyster Bay 10 years ago. Hou hopes her research will help answer whether it will form a bloom in the Sound.