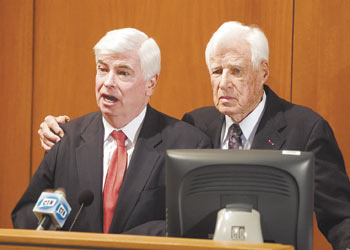 Whitney Harris, right, a former prosecutor at the Nuremberg Trials, and Sen. Christopher Dodd. Harris spoke at the Dodd Center on the 60th anniversary of the judgment at Nuremberg.
Photo by Melissa Arbo
April 17 , 2006 ¦ Volume 24, No. 28

New code of conduct adopted by University
A University-wide code of conduct was adopted by the Board of Trustees last week as part of a compliance program to help faculty, staff, and administrators adhere to federal, state, and local regulations.
Scalia tells law students Constitution 'cannot bend'
Joking that he goes to law schools to "make trouble," U.S. Supreme Court Justice Antonin Scalia spoke out against what he called "judge-moralists" in an address on his judicial philosophy to 350 guests at the School of Law on April 12.
Former Nuremberg prosecutor discusses Trials' dramatic moments
The post-World War II trials at Nuremberg represented "man's first effort to put tyranny on trial," according to one of the principal members of the prosecuting team at the international military tribunal held 60 years ago in the defeated Germany.
Founder's Day event April 21 to include picnic
Students, faculty, and staff are invited to participate in a campus-wide picnic April 21 celebrating the 125th anniversary of the founding of the University.
More headlines...