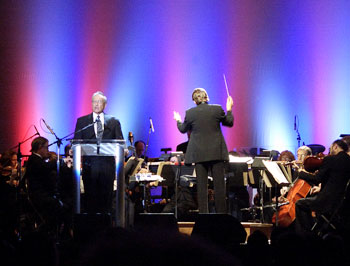 Nafe Katter, left, professor emeritus of dramatic arts, reads Lincoln's Gettysburg address as Keith Lockhart, right, conducts the Boston Pops, at the recent 50th Anniversary Gala of the Jorgensen Center for the Performing Arts.
Photo by Peter Morenus
April 10 , 2006 ¦ Volume 24, No. 27

Legislture may add $3 million to budgets
The General Assembly's Appropriations Committee has approved a 2006-07 budget proposal that, if passed by the full legislature, would add nearly $3 million to operating budgets for UConn and its Health Center.
Unpopular U.S. foreign policy to prevail, Gerson lecturer says
The United States will maintain its role of unilaterally intervening abroad for at least the next two decades, despite international criticism and the unpopularity at home of its foreign policy, according to Johns Hopkins Professor Michael Mandelbaum.
Digital age copyright challenge
One need only witness the popularity of the iPod to understand how digital technology is revolutionizing copyright law today, says Robert Oakley, Director of the Law Library and a Professor at the Law Center at Georgetown University.
Insignia items may come from designated suppliers
The University is working with other higher education institutions to design a collaborative program that will steer increasing numbers of University orders to a selected group of verifiably "sweat-free" enterprises.
More headlines...