Students interested in working with horses and helping people with disabilities can now combine those interests by taking a minor in therapeutic horsemanship.
The minor, offered by the animal science department, is the first equine minor, although the department has offered an undergraduate degree with an equine concentration for years.
Approved in July 2005, the therapeutic horsemanship minor includes electives in business and human development as well as required animal science courses in horsemanship.
"I think this is an emerging area for our students," says Jenifer Nadeau, an assistant professor and equine extension specialist, who developed the curriculum. "We were losing people to other schools because we didn't have a program."
Nadeau enlisted the help of Kitty Stalsburg, program director of High Hopes Therapeutic Riding Inc. in Old Lyme, for advice on which classes would best provide a basis for further study and certification as a therapeutic riding instructor or a director of such a facility.
The elective courses cover such topics as business management, marketing management, financial decision-making, and family studies. It took nearly three years to get the minor approved, because more than one department was involved in the process.
The required equine classes include pleasure horse appreciation and use, horse science, light horse training and management, and a course in teaching others how to ride.
"Finally, they take animal science 296, a professional internship with an NARHA (North American Riding for the Handicapped Association) center," Nadeau says.
Even though the Storrs campus has 95 horses for teaching, riding, and research, the internships will be done elsewhere, at therapeutic horsemanship centers equipped with hydraulic lifts and other tools of the trade.
Nadeau has observed the benefits of therapeutic horsemanship firsthand.
When she was a graduate student in animal science at the University of Tennessee in Knoxville, she volunteered at a local therapeutic riding facility.
"I worked with children just laying across the horse's back, with older folks who had had a stroke, and with people who barely spoke, then started speaking when they gave commands to their horse," she says.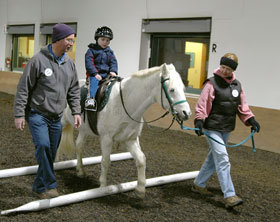 Students taking a new interdisciplinary minor in therapeutic horsemanship will work as interns at therapeutic riding centers, such as this one at High Hopes in East Lyme.
Photo by Dollie Harvey
Nadeau recalls "pretty dramatic improvement" in a young girl who could barely communicate with her at first. Six years later, the girl was holding down a permanent job at McDonalds.
As of last fall, Nadeau knew of at least eight students, all women, who were interested in UConn's new therapeutic horsemanship education minor.
She says the program requires a lot of dedication.
Victoria Monaco seems sufficiently motivated.
The 20-year-old junior already has taken the horse science course and is signed up for two human development courses this semester.
She says the therapeutic horsemanship education program is the reason she came to UConn.
"When I was looking into schools, I visited UConn and met with Prof. Nadeau," she says.
"She was showing me the horse barn and told me about the minor, and that kind of sealed the deal."
Monaco has been riding horses since she was four years old, and may pursue a career in therapeutic horsemanship. She also wants to earn a license as a sign language translator. She began taking signing classes in high school and plans to explore ways to combine both sets of the skills.
Therapeutic horsemanship job options are plentiful, according to Nadeau, who anticipates the first student will graduate with the minor in 2007.
"It's a growing field," she says. "There usually are waiting lists to get into these riding centers and not enough instructors.
"Sometimes there's a lot of turnover, and if you're willing to relocate, you can find a position."
After becoming instructors, Nadeau believes, UConn graduates would have a leg up on the competition to become directors because of the courses they've taken to earn their therapeutic horsemanship minor.
"They will have choices," she says. "They'll be able to pursue their dreams."