Joan McGuire says each semester is a "new adventure." She welcomes the challenge of channeling a broad range of students' thinking, backgrounds, levels of knowledge, and familiarity with content into a cohesive learning experience.
"I work hard at establishing a very positive instructional climate," says McGuire, an educational psychology professor and co-director of the Center on Postsecondary Education and Disability at the Neag School of Education.
"I want students to know that they're really important … and I want them to feel comfortable in the class."
She works in various ways, using humor "when it fits," sharing personal vignettes ("they all know I'm a Notre Dame football fan"), and planning group and pair activities aimed at encouraging participation and drawing out the best in each student.
These elements of McGuire's style helped win her the 2005 excellence award for 'teaching mentorship" from the UConn chapter of the American Association of University Professors (AAUP).
She was nominated for the honor by her colleague Sally Scott, an assistant professor-in-residence of educational psychology.
"Joan has a special gift for connecting with students," wrote Scott, in her letter to the committee.
"She listens, she supports, she challenges, she models, she plays devil's advocate – and through this connection, she takes students to another level of insight or learning that makes a lasting impact on their lives."
McGuire teaches one graduate course a semester. This spring it's a course on Individual Pupil Assessment.
She is the principal investigator for a federal grant, and spends much of her time advising master's and doctoral students.
"I have such strong feelings about respecting students' autonomy in terms of decision-making … and supporting them in their thinking process, particularly at the doctoral level," she says.
She also cares deeply that her students understand more than just the technical elements of getting a degree or preparing a dissertation, and emphasizes the importance of "good practice and professional demeanor."
McGuire grew up among educators, including a grandfather who was a superintendent of schools.
A Rochester, N.Y. native, she earned a bachelor's degree in humanistic studies at St. Mary's College in Notre Dame, Ind.
She earned a master's degree, a sixth-year diploma, and a Ph.D. in special education at UConn, while holding various posts in special education and learning disabilities.
During the early 1980s, the state provided small grants for nascent support programs for students with learning disabilities at UConn and Housatonic Community College, and hired McGuire to evaluate the programs.
Each school agreed to continue their program when the two-year grant ended.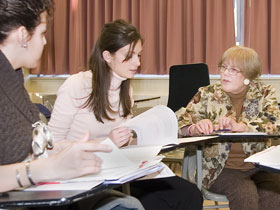 Joan McGuire, right, professor of educational psychology, teaches a graduate class.
Photo by Jordan Bender
In 1986, McGuire became director of UConn's Program for College Students with Learning Disabilities (UPLD), which has grown under her leadership and has put UConn on the map as a leading school for graduate and post-graduate training in the field.
McGuire remained the program's director until 2000, when she received a federal grant to begin developing the "Universal Design for Instruction" (UDI) project. She describes it as an educational framework for "designing and delivering instruction and assessing student learning at the college level, with the intent of including diverse learners."
The ongoing project described at www.facultyware.uconn.edu – is based on an architectural concept incorporating design elements geared for a wide range of users.
McGuire uses UDI principles in her teaching and mentoring.
"Students set different goals for themselves and work to achieve those goals," she says. "My role is to facilitate that process, and at the same time maintain high expectations of performance."
Students and colleagues say she's remarkably proficient at her work.
"I think Joan is an extraordinary educator," says Richard Zipoli Jr., a doctoral student in special education who asked McGuire to be on his committee after taking a class with her that included students with a range of different backgrounds including law, special education, and physical therapy.
"Each of us had something unique to contribute, and she had a gift for asking the right questions for getting all of us to cross-fertilize ideas," he says.
"She challenged all of us to become critical thinkers and to consider every issue from multiple perspectives."
Collen Hunter met McGuire in 1995, while contemplating admission to UConn's five-year integrated bachelor/masters special education program.
A student with an auditory learning disability, Hunter says McGuire gave her a realistic assessment of the difficulties, and potential rewards, of pursuing the program.
"She became my adviser and mentor, and basically was there for me the entire road," says Hunter, who wrote a letter about McGuire for the awards committee.
"She answered any questions I had, was always there if I was struggling, and was there to celebrate the successes."
Adds Hunter, "I owe her everything that I am today."