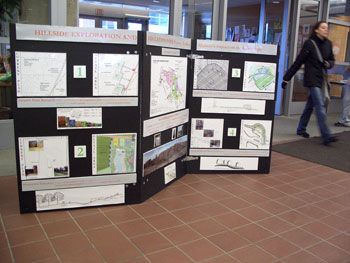 A display on environmental acativities at the University, at the Homer Babbidge Library.
Photo by Peter Morenus
February 27, 2006 ¦ Volume 24, No. 22
Publication Note: There will be no issue of the Advance during Spring Break (March 6-10). The next issue will be Monday, March 13.

Boehringer Ingelheim contributes $1.25 million to Pharmacy
The School of Pharmacy has received a $1.25 million gift from Boehringer Ingelheim Pharmaceuticals Inc. to establish an endowed chair in mechanistic drug toxicology, the first such chair in the nation.
Campus-wide efforts helping the environment
Some 15 months after test running a campus shuttle bus on a mixture of petroleum diesel and biodiesel fuel, an interdisciplinary group of faculty and graduate students is nearly ready to start producing up to 50 gallons of biodiesel each week.
Ryan Refectory to be converted into lab, office, classroom space
Ryan Refectory, a dining hall located in Alumni Quad, will close after the spring semester to make way for a high-tech classroom, laboratories, and offices.
Alcohol prevention program helps change students' drinking behaviors
UConn's Class of 2009 took and passed the alcohol education program AlcoholEdu in larger numbers than any of their predecessors, and many appear to be taking it to heart, a survey by the company Outside the Classroom concludes.
More headlines...