Who needs musical instruments? UConn's a cappella singing groups can create a world of melody, harmony, bass, and percussion using only their voices.
"There weren't any a cappella groups when I came here in 1984," says Peter Bagley, professor emeritus of music. "A small choral group got together who enjoyed singing. They were technically and vocally very good – just guys hanging out."
Since that time, a cappella has blossomed on campus, part of a national trend.
Now, there are at least six formal groups: A Minor, the Chordials, the Conn-Men, Extreme Measures, Rubyfruit, and A Completely Different Note.
The term "a cappella," Italian for "in the style of the chapel," refers to music without instrumental accompaniment. Perhaps the most famous collegiate a cappella group in the state is Yale University's Whiffenpoofs.
Robert Miller, professor of music, says "there is a very active music life on this campus. I see the growth of a cappella groups as a measure of the success of music education here. These kinds of student-run groups are the soul of the University."
According to Bagley, in the mid-1980s "a cappella spontaneously became popular all over the country. Word spread like wildfire." Bagley attributes part of its continuing popularity to the availability of music websites, iPods, and other "fast ways of communication."
Marvin McNeill, assistant director of athletic bands, ascribes the explosion of collegiate a cappella to the music of the past decade, some of which involved multi- part harmony, including songs by Take 6, the Backstreet Boys and Boyz 2 Men.
"A cappella gives students an opportunity to express themselves with their voices and touch people with their music," McNeill says.
Arielle Schachat was "blown away" the first time she saw the Chordials perform. "I knew I wanted to be part of it," says Schachat, a music education major who is now president of the ensemble.
"A cappella is hard work," she says. "It's really exhilarating, but it's also tough. You have to have a good ear. You have to always think about the right pitch and connecting with the other singers."
The Chordials hold retreats during the fall and summer to select their music. "We all bring CDs and listen," she says. "Everybody has a say in what we pick. We learn a lot from each other."
At auditions, they look for "personality and upbeat attitude. We like to have a good time and we're serious about making music," Schachat says.
Matthew Previdi, an animal science major, is president of the all-male A Completely Different Note. He says their group spices up performances with humor. "We like to do something funny to lead into songs. People always say, 'It looks like you're having so much fun.'"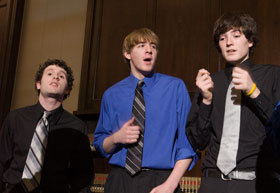 Members of the Conn-Men a cappella group perform the Alma Mater in the North Reading Room at Wilbur Cross Building as part of the 125th Anniversary kick-off celebration.
Photo by Peter Morenus
Their repertoire runs the gamut from alternative rock to barbershop to Renaissance to gospel – with an occasional calypso tune tossed in the mix.
He says the relationship among the vocalists is special. "You're working toward a common goal," he says, "and you have an elevated relationship with the group members."
Steve Marcello, president of the Conn-Men, started singing in the group as a freshman in 2002. "We went from performing concerts with 60 people to more than 500," says Marcello, a math major.
"At a recent performance, there wasn't enough room in the theater for all the fans."
What does Marcello get out of singing with the Conn-Men?
"When I sing with the guys and we're harmonizing perfectly, there's nothing like it," he says. "I get the chills.
"Each singer makes a huge difference," he adds. "Every person's part contributes to the whole sound. And the best thing next to the music is that I have nine best friends."
The Conn-Men practice six hours a week at two or three rehearsals. "We have a lot to work on," Marcello says, noting that they have at least one performance a week.
"One of the hardest things is trying to be better than you were last semester – to top the last performance. You have to keep being creative and keep developing your voice and ear."
Marcello, who says each group has a different fan base, notes that an a cappella association was organized last year. "It keeps the groups organized," he says.
"We have a showcase concert at the beginning of the year, so people see who we are and the styles of music that each group offers."
"We take modern pop and rock music and turn it into a cappella," Marcello says. "We also do classic rock like Styx and the Beatles, and music like 'Beyond the Sea' by Bobby Darin.
Last fall, 45 men and about 70 women auditioned for just 20 spaces across all the groups.