The Health Center is offering vagus nerve stimulation (VNS) therapy for serious depression, a new treatment approved recently by the Food and Drug Administration.
The treatment involves implanting a small generator about the size of a stopwatch just under the skin in the left side of the chest and tunneling thin thread-like electrodes under the collarbone to wrap around the left vagus nerve, which relays signals to a part of the brain related to mood and anxiety. Implantation of the device is done in same-day surgery by an otolaryngologist. Then, after a period of about two weeks, psychiatrists work with the patients to program the device to send intermittent, mild electrical pulses through the vagus nerve to the brain and monitor the response.
"It's a welcome addition to the treatments we have for chronic depression, which is one of the most prevalent and serious illnesses in this country and around the world," says Dr. Leighton Huey, chair of the psychiatry department.
Depression is typically treated with a combination of medication and psychotherapy, but not everyone responds well, Huey says. "About 20 to 25 percent of patients who are suffering from serious, chronic depression respond incompletely or not at all to conventional treatment. We are making the VNS therapy available to patients who have been treated for major episodes of depression at least four times without success or with only partial success."
For those who respond, the effectiveness of VNS therapy seems to increase over time and improvement seems to be maintained for the long term for some people. Some will have full remission of their symptoms, says Huey.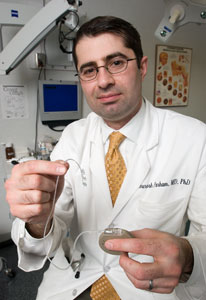 Dr. Kourosh Parham holds a vagus nerve stimulator (VNS), a new device for treating serious depression. VNS therapy is now available at the Health Center.
Photo by Peter Morenus
The device, developed by Cyberonics Inc. of Houston, was first offered as a treatment for people having seizures that did not respond to usual treatment. It was approved for that use in Europe in 1994 and then in the United States and Canada in 1997. Medical researchers found that the device appeared to improve mood in patients with epilepsy, even when it did not substantially reduce their seizures. It was approved for treatment-resistant depression in Europe and Canada in 2001, and approved by the FDA for depression last summer.
"Our program is the only comprehensive one in the state," says Huey. "We will be working with physicians around the state to make them aware of this treatment and help them evaluate their patients who might benefit from it."
For more information on VNS therapy, contact the Department of Psychiatry at 860-679-4282.