Paula Englehart McManus, 55, the Health Center's associate vice president of planning died at home on Jan. 19, the victim of an apparent homicide.
Her responsibilities at the Health Center were varied and wide-ranging. In addition to generating internal and external data analysis – such as population trends and market share data that were used to drive clinical decision-making – she was responsible for many of the relationships with payors, other hospitals, and outside groups.
She was also responsible for negotiating contracts with clinical contractors who work for or with the Health Center, such as Health Resources International, partners in the Farmington Surgery Center. She was the clinical strategic planner and was the contact person for all submissions to the state Office of Health Care Access.
"She was my right arm and the strategic go-to person," said Dr. Steven Strongwater, director of clinical operations and hospital director. "She was a tireless worker, she was committed to the Health Center in every way, and she made work fun for everyone around her.
"She was so bright and intellectually challenging, that I think she brought out the best in everyone," he added. "She was warm and friendly and an 'up' person to be with."
In an appreciation note sent to the Health Center community Jan. 20, Executive Vice President Dr. Peter Deckers wrote: "Paula loved – passionately – her job, the Health Center, and the people she worked with. She was relentless in her pursuit of opportunities that would enable our growth and enhance our reputation. She had many gifts, not the least of which were her intelligence, her skills, and her professionalism.
"She was sensitive, kind, and compassionate, if sometimes impatient for results and change, and occasionally even frenzied when we failed to have courage or see the light," he added. "We, I am sure, always understood that she was what she was because we were her family, and she demanded the best for us and the best out of us in return."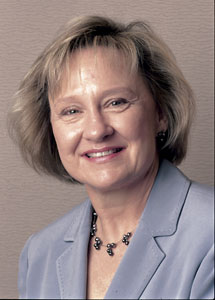 Photo of Paula McManus courtesy of Modern Healthcare Magazine.
Dr. Dennis Lafreniere, professor of otolaryngology and director of the Voice and Speech Clinic, worked with McManus on a number of committees, including clinical oversight and the strategic planning group.
"She was a joy to work with," he said. "She was enthusiastic and always had a wonderful vision of how the clinical side of the Health Center should work."
McManus was the mother of two sons, Colin McManus, who survives her, and the late Barton McManus.
She is also survived by her mother, Jean Englehart of Cincinnati, Ohio; and eight siblings, Donna Englehart of Dallas, Texas; Linda Gunter, Mark Englehart, Joseph Englehart, Peggy Zink, and Jenny Marck all of Cincinnati, Ohio; Beth Englehart of Botswana; and Ame Englehart of Hong Kong, their spouses and her nieces and nephews.
McManus was the former chair of the Essex Democratic Town Committee, a past member of the Essex Board of Finance, and a member of many other organizations, which benefited from her boundless energy and enthusiasm.
A memorial service was held Jan. 24 at Trinity Episcopal Church in Branford.
Donations in her memory may be made to the UConn Health Center, 263 Farmington Ave., Farmington, CT 06030.