On Feb. 24 and 25, in conjunction with the 250th anniversary of the birth of Revolutionary War hero Nathan Hale and the premiere of a new play celebrating the life of the pioneering civil rights advocate Prudence Crandall, the University will host a conference: "Heroism, Nationalism, and Human Rights." The conference will review the historic roles of "heroes" and "heroines" in American society and their prospective place in the culture of the 21st century and beyond.
In addition to hearing papers presented by a national cross-section of scholars, conference participants will have the opportunity to enjoy special tours of the Prudence Crandall Museum and the Nathan Hale home site, and attend a special discussion by the director, authors, and actors following a matinee performance of the world premiere play Prudence.
"While some scholars argue that heroic figures are necessary to inspire emulation and social virtues, others argue that heroic figures have been used to validate social, political, and gendered domination," says Walter Woodward, assistant professor of history and State Historian. "We will analyze aspects of the conception of heroism throughout American history and discuss the lives of individuals and how their actions came to be recognized as heroic. We will also consider ways of understanding across traditional boundaries, especially public history and interpretation of heroism outside the academy."
Panel presentations may include some of the following issues:
How has the role of the hero/heroine changed at various periods in American society?
How does gender affect the creation, demeanor, and/or achievements of a "heroine"?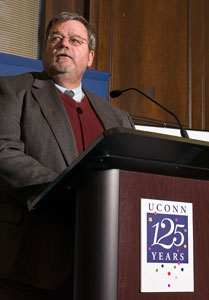 Walter Woodward, assistant professor of history and State Historian.
Photo by Peter Morenus
What is the relationship between heroism and nationalism, and heroism and human rights?
What are the political dimensions of hero-building?
How do public historians incorporate heroic characters into the larger stories of historic occurrence?
The conference will take place in the Thomas J. Dodd Research Center. For information and registration details, visit www.conferences.uconn.edu/heroism or contact State Historian Walter Woodward at Walter.Woodward@uconn.edu or 860-570-9089.
Conference organizers are the Antiquarian and Landmarks Society and UConn's Office of the State Historian. The event is sponsored by the Connecticut Humanities Council, the Connecticut Commission on Culture and Tourism and Prudence Crandall Museum, the Association for the Study of Connecticut History, and UConn's College of Liberal Arts and Sciences, Department of History, Connecticut Repertory Theatre, Connecticut Archaeology Center, Human Rights Institute, and the Thomas J. Dodd Research Center.