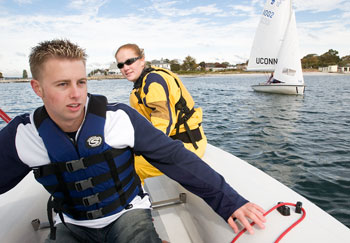 Students Diana Wickman, a junior, and Nicholas Canzellarini, a senior, sail at Avery Point.
Photo by Peter Morenus
DECEMBER 12 , 2005 ¦ Volume 24, No. 15
Undersea explorer to speak at December graduation
Undersea explorer Robert Ballard, whose team discovered the wreckage of the Titanic in 1985, will receive an honorary degree and deliver the Commencement address on Dec. 18.
Stamford campus to be site of new commerce research center
A center that will focus on research and scholarship related to global and international commerce is being established atthe Stamford Campus.
Honors Program a draw for high-achieving students
UConn's Honors Program, long a point of pride for the University, has seen some marked improvements during the past several years. A growing number of students, with increasingly better academic qualifications, compete for spots.
Toy collection for families of troops to take place on campus Dec. 5-19
A holiday toy drive will be held at the Storrs campus from Dec. 5 through Dec. 16. All toys and other items collected will be donated to Operation Elf, a charity hosted by Gov. M. Jodi Rell's office, in support of deployed Connecticut troops and their families.
More headlines...