Scientists at the University of Connecticut Health Center and the Yale School of Medicine have collaborated on new research that may eventually improve the diagnosis and treatment of multiple sclerosis (MS), a crippling disease that targets the brain and spinal cord and impacts up to 350,000 Americans.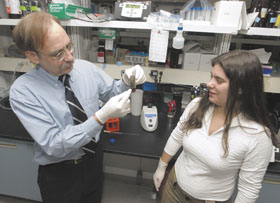 Neuroscientists Steven Pfeiffer, left, and Dr. Cecilia Marta discuss their research at the Health Center.
Photo by Peter Morenus
The findings are published in a recent edition of the Proceedings of the National Academy of Sciences.
"In MS, the immune system becomes ill and begins attacking your own body," explains Dr. Cecilia Marta, assistant professor in the department of neuroscience at the Health Center. "It starts to destroy the protective coating around our nerve cells, called myelin. Without this coating, information via our nerve cells can not travel as fast."
The initial symptoms, blurred vision or muscle weakness, are mild for most patients. The symptoms typically recur and sometimes worsen. In severe cases, MS can be disabling and can result in paralysis.
While new magnetic resonance imaging technologies have allowed doctors to spot the disease's telltale central nervous system lesions, they still can't tell newly diagnosed patients whether the course of the autoimmune disease will be relatively benign or life-threatening.
Identifying how seriously MS will damage the body is one of the major goals of researchers, and the team of scientists from the UConn Health Center and Yale University has taken an important step toward that goal.
Marta and Steven Pfeiffer, a professor of neuroscience at the Health Center, are studying the mechanisms by which antibodies that react with a specific molecule on the surface of myelin-producing cells contribute to the disease.
They teamed up with Nancy Ruddle, professor of epidemiology and public health at Yale University, an expert in the application of mouse models, to learn more about how these antibodies may cause multiple sclerosis.
The team was able to differentiate between certain antibodies, some that contribute to the disease and others that do not.
"Our findings helped us develop a series of tests that can contribute to a patient's early diagnosis," says Marta.
"It brings us a step closer to predicting the course of the disease in a particular patient, including just how aggressive it may be."
The UConn and Yale technology transfer offices are also working together to identify industry partners that can develop these findings into a diagnostic test that may one day be readily available to doctors.
Pfeiffer, who has been studying multiple sclerosis since 1970, says their research is a prime example of how basic science can provide the building blocks necessary for translational research (research that can be translated into clinical practice), and demonstrates the critical role that collaboration with excellent colleagues plays in biomedical science.
"Even though we're still in the early stages," he says, "by identifying the molecular mechanism by which these antibodies are causing damage, we move closer to developing novel therapies to treat this devastating disease in the future."
Other researchers involved with the study are Alfred Oliver and Rebecca Sweet, both of Yale.