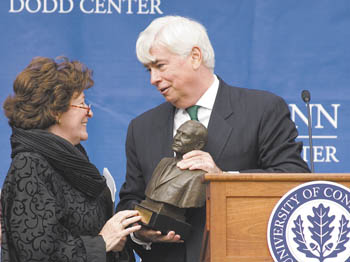 Louise Arbour, UN High Commissioner for Human Rights, and Sen. Christopher Dodd during the award ceremony for this year's Dodd Prize in International Justice and Human Rights. The event was held on the Dodd Center Plaza on Oct. 17.
Photo by Daniel Buttrey
October 24, 2005 ¦ Volume 24, No. 9
Dodd prize in human rights shared by two international jurists
Some 300 people gathered on the plaza of the Thomas J. Dodd Research Center Monday to honor two attorneys for their roles in advancing international justice.
Health Center receives $12.3m federal grant for biological research
The Health Center has received a $12.3 million federal grant to help build the tools and technologies needed to understand the networks of molecules that make up living cells and tissues.
Major NIH grant to fund study of Latino health
The National Institutes of Health's National Center for Minority Health and Health Disparities recently awarded Rafael Pérez-Escamilla, an associate professor of nutritional sciences, and his collaborators at the Hispanic Health Council and Hartford Hospital an $8.25 million, five-year grant to establish the Connecticut Center of Excellence for Eliminating Health Disparities among Latinos.
Conference to explore history of five senses
A new kind of scholarship – a history of the five senses – will be explored at the inaugural James L. and Shirley A. Draper Graduate Students Conference on Early American Studies Nov. 10-12.
More headlines...