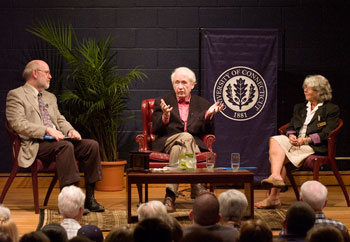 Frank McCourt, center, author of the memoir Angela's Ashes, addresses an English class at the Torrington Campus Sept. 28. The class was part of a course titled Writers of Litchfield County and Films Made from their Works that is bringing a number of local authors to the campus this semester to discuss their work. At right is Davyne Verstandig, a lecturer in English, who is co-teaching the course. At left is John Long, co-instructor of English 217.
Photo by Peter Morenus
October 3, 2005 ¦ Volume 24, No. 6
Stwalley receives state's highest science award
The prestigious Connecticut Medal of Science was awarded to William C. Stwalley, chairman of the University of Connecticut's physics department at a ceremony attended by Gov. M. Jodi Rell Sept. 28.
Dodd Prize to honor human rights advocates
Two attorneys who have spent their careers fighting for human rights will share the Thomas J. Dodd Prize in International Justice and Human Rights on Oct. 17.
CRT to stage world premiere of play with biblical theme
Tony Award-winning playwright William Gibson is working with the Connecticut Repertory Theatre (CRT) to stage the world premiere of his latest play, Jonah's Dream, at the Nafe Katter Theatre Oct. 6 through 16.
Internet plays growing role in recruiting prospective students
Prospective students and their families visiting campus for the fall admissions open house this year had a new tool to help them plan their day.
More headlines...