Variety Of Careers Await
Liberal Arts Graduates
By Lucinda Weiss
Amanda Falcone, above, a journalism major who is embarking on a career as an education reporter, and Tarik Hadzic, below, a molecular and cell biology major who is entering an M.D./Ph.D. program, are two of this year's graduates from the College of Liberal Arts and Sciences.
Photos by Dan Buttrey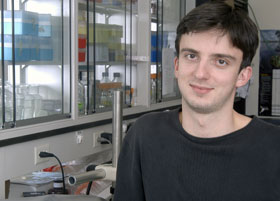 Brian Hawkins, a journalism major from New York City who has never been farther south than Washington, D.C., plans to teach school in the Mississippi Delta, one of the poorest places in the country.
Maria Carboni, a political science and Spanish major, is heading to Boston College for law school.
Tarik Hadzic, a double major in German and molecular and cell biology, will enter an eight-year MD/Ph.D. program at Washington University Medical School. A native of Bosnia and Herzegovina, he will be the next in his family to become a physician, a tradition they can trace back to the Middle Ages.
These are a few of the ways that students graduating this year from the College of Liberal Arts and Sciences (CLAS) will use their liberal arts education to embark on their careers.
While he has chosen a career that combines medical research and medical practice, Hadzic says that with his majors, he "can find a position anywhere – from a bank to a government agency.
"I think college is a place where you can open up your mind and learn about the world," he adds.
Maria Carboni, who interned at a legal aid office last summer and spent most of her senior year studying in Mexico, says, "All of my UConn experiences – in the classroom and abroad, through research and internships, and with the clubs and organizations – taught me about life, the world, and myself."
Her career goal after law school is to practice public interest law, and she wants to be able to communicate well with Spanish- speaking clients.
"I believe that UConn helped me learn what career path to follow," she says, "and gave me the skills to succeed."
Hawkins, who is graduating with a degree in journalism, leaves in June for Oxford, Miss., for a summer of intensive education courses at the University of Mississippi. Next fall, he'll be placed in a rural high school to teach English as part of the Mississippi Teacher Corps.
He'll teach for two years and take more education courses, ending up with a master's degree from Ole Miss through a full scholarship, while earning a salary as a teacher.
His journalism classes prepared him with research and writing skills, he says, and he took chemistry, physics, biology, and anatomy as well, out of interest.
Diane Romonosky, a chemistry major who interned at a fragrance laboratory, will be interviewing for research and development positions with cosmetics manufacturers. While pharmaceutical companies are a more common career path for chemistry graduates, she likes fashion and enjoys the world of cosmetics.
Someday, she may start a cosmetics line of her own, she says.
Amanda Falcone, who majored in journalism, has wanted to work as a newspaper reporter since she was the editor of her middle school newspaper. She came to UConn from Rhode Island because of the journalism department's focus on print journalism.
After graduation, she will begin work at the Record-Journal in Meriden as an education reporter.
During her UConn career, she interned at The Day in New London and the Journal Inquirer in Manchester, earning front-page bylines. The skills she learned in her classes allowed her to just "plunge in," she says.
David Sklar, a physics student, is headed for a career in international peacekeeping, starting with either the Peace Corps or, if his application is successful, a Fulbright overseas study grant.
"What I have learned in physics and mathematics in terms of analytical thinking and the ability to consider multiple variables in a system will be instrumental in my work for the rest of my life," he says.
Paul Bloomfield, an assistant professor of philosophy, has written a response to potential philosophy majors who worry that their studies may not prepare them for a job.
Analytical skills, clear thinking, and clear writing are needed in any profession, he says.
"Will you think through the problems you will inevitably face in a clear and lucid fashion, or will you bumble through them?" he asks. "Will you know how to identify the salient issues and problems, be able to explain articulately why they are salient, and devise creative problem-solving strategies?"