Health Center Earns National
Recognition For Hospital Performance
By Pat Keefe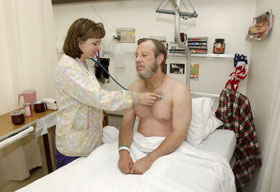 Pam Bouten, RN, 7th floor assistant nurse manager, listens to the heart of a patient.
Photo by Peter Morenus
The Health Center has been named a "Top 100 Hospital Performance Improvement Leader," joining such major teaching hospitals as The Johns Hopkins Hospital in Baltimore, the Dartmouth-Hitchcock Hospital in Hanover, N.H., and the Hospital of the University of Pennsylvania, Philadelphia.
The "Top 100" designation was conferred by Solucient, a health care information and data analysis software company, in a study published in the April 25 issue of Modern Healthcare.
Dr. Steven Strongwater, the Health Center's associate dean of clinical affairs, director of clinical operations, and hospital director, says the award recognizes the work of many people.
"The Performance Improvement Leaders award is not due to the work of any one individual," he says. "It is a result of everyone who interacts directly with patients or who supports patient care. The average patient is 'touched' by 60 people during a hospitalization. Every step of the process has to work for care to be ideal."
The award was based on statistical analysis of validated measures and a comparison of rates of improvement over five years. The data included more than 800 elements for more than 6,000 U.S. acute care and specialty hospitals. There are about 10,000 hospitals in the United States.
Hospitals were assigned to one of five groups according to their size and teaching status. The groups included major teaching hospitals, teaching hospitals, large community hospitals, medium community hospitals, and small community hospitals.
The Health Center was one of 15 in the major teaching hospital category.
The study by Solucient was based on data from federal fiscal years 1999 through 2003, and included data used to calculate mortality, complications, length of stay, and several other metrics from the more than 12 million Medicare discharges per year at the nation's acute care hospitals.
The analysis showed that the hospitals identified as this year's performance improvement leaders have lower mortality rates, shorter lengths of stay, and lower expenses compared with peer group hospitals.
"An urgent and compelling national public health goal is immediate, significant, and sustainable improvement in the quality and safety of patient care," says Dr. Peter J. Deckers, executive vice president and dean of the School of Medicine. "We thoroughly embrace these goals at the Health Center; they have become core to our mission and vision and we are committed to addressing them in all of our clinical and educational endeavors."
Specifically the study found Performance Improvement Leader hospitals:
Had fewer patient deaths, complications, and adverse safety events than expected;
Discharged patients three-quarters of a day earlier in 2003, compared to 1999;
Increased the operating profit margin by more than six percentage points, while peer hospitals saw nearly flat profit margins.
"The John Dempsey Hospital provides excellent clinical care," says Rhea Sanford, director of performance improvement and patient safety. "We dedicate ourselves to being a strong, safe clinical environment with respect to education and research. This award recognizes our performance."
"The designation as a 'Top 100 hospital' reflects the commitment our entire workforce has to our patients," says Anthony Borda, associate vice president for operations.