Law Professor Links U.S. Democratic Processes To Better Child Care
By Peyton Woodson Cooper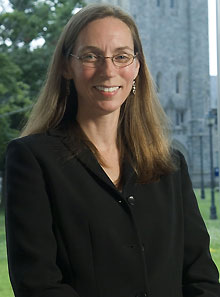 Anne Dailey, professor of law, recently won an award from the American Psychoanalytic Association for an essay that examines the role of families in developing the skills needed for participation in a democracy.
Photo by Lanny Nagler
America's inadequate system of child care is hindering full public participation in the democratic process, according to UConn law professor Anne Dailey.
In a thesis recently recognized by the American Psychoanalytic Association with a prestigious essay prize, Dailey examines the role of families in a strong, vibrant American democratic society.
"Democratic freedom assumes certain psychological skills," she says, "such as critical self-reflection and emotional self-control. Acquiring those psychological skills requires certain social preconditions. People can have internal constraints that prevent them from fully living their own lives. These constraints begin in early childhood."
Dailey uses psychoanalytic developmental psychology to show that the quality of the early care children receive can affect the long-term development of the skills required for personal autonomy and political participation in a democratic society.
"A child's capacity for reason and self-governance has to do with learning how to control emotions," she says. "Families with greater environmental stresses, such as a extreme poverty, domestic violence, and homelessness, have a harder time providing a soothing, responsive care-giving environment for their children."
Dailey says the government should do all it can to provide families with what they need to create that sort of environment.
Melvin Lansky, who chaired the Association's essay prize committee, says the spirit of the law professor's essay excited the judges.
"She makes a giant leap from constitutional law to what we know about why kids do what they do," Lansky says. "People loved the paper. We're still savoring her presentation."
The award honors psychoanalytically informed research in the social sciences, arts, and humanities. The paper will be published next year in the Journal of the American Psychoanalytic Association.
Psychoanalysis is a theory of personality that strives to understand how the unconscious mind works. It emphasizes the role of early experience in shaping present behavior.
In her essay, Dailey illustrates how a psychoanalytic developmental perspective can be used to explain how poor child care for the nation's children jeopardizes the stability of American democratic society.
"This also raises questions about workplace polices that would allow parents to maintain their jobs while adequately caring for their children," she says.
Dailey, who teaches family law at the UConn School of Law, says she has always been interested in the law's perception of human nature and the role of the family in political life. She is currently writing a book that explores how the tension between scientific and psychoanalytic psychology has influenced the development of the law and legal ideas. The work will be titled When Reasonable Minds Differ: Psychoanalysis, Scientific Psychology and the Law.
"Psychoanalysis is a missing component today in law and legal scholarship," Dailey says. "Psychoanalysis has a tremendous amount of empirical work to offer us about human behavior, about how people behave unconsciously in unintended and often self-destructive ways."