Troubled Moms To Benefit
From Stress Management Program
By Kristina Goodnough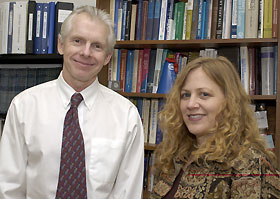 Photo by Peter Morenus
A new stress management program at the Health Center will help mothers of young children cope with significant stress and trauma and promote healthy parenting.
Significant stress or trauma can trigger sadness, mood swings, anger, or a quick temper, says Julian Ford, an associate professor of psychiatry who developed the program. "We know these are predictable responses to trauma, and we know these responses can wreak havoc in daily relationships."
The program, called 'Mothers Overcoming and Managing Stress,' (MOMS) is designed to help mothers with children ages five and under build on their personal strengths by learning new approaches to dealing with stress, says Ford, who has focused much of his research on post-traumatic stress in mothers and young children.
"Often, the hardest part about being a parent is knowing what to do when other life experiences cause stress that gets in the way of being with and enjoying your child," he says. "If mothers have some effective tools to manage stress, most are incredibly good at providing healthy parenting to their children during the really important period of development between birth and kindergarten."
The program is open to mothers who have experienced significant stress or trauma, including a serious accident, disaster, legal or substance use problems, or violence or abuse in the home or community.
"If a person has experienced significant stress or trauma, it doesn't necessarily make them mentally ill, and it certainly doesn't make them a bad person," says Karen Steinberg, co-director of the program with Ford. "It may, however, make them more reactive in ways that can interfere with the patience and focused attention that are needed by every parent of a young child.
"We think of stress reactions as a healthy, natural attempt by the body to protect you from further danger or harm," she adds, "and we explain how the body's 'alarm system' can become out of balance due to surviving extreme stress. Then we teach several practical ways to get this bodily alarm system back on track again."
Two different kinds of counseling will be available. Both provide 12 private, weekly, hour-long sessions with a trained counselor, and both have proven effective in helping people manage stress.
One type of counseling, trauma adaptive recovery group education and therapy, developed by Ford, focuses on enhancing the ability to think clearly under stress.
The counseling teaches real life coping skills to handle "alarm reactions," such as anger, worry, nervousness, depression, impatience, boredom, over-eating, acting without thinking, and withdrawal from relationships.
The other, known as present-centered therapy, emphasizes enhancing relationships and problem-solving in relationships.
Each participant will be interviewed and will complete questionnaires before, during and after the counseling sessions, and participate in a brief phone screening every day for a month at the beginning and end of the program.
Ford says he intends to rigorously test the two approaches and learn how each one is effective, and which is the more effective, with the goal of developing a program that can be taught to mothers throughout the country and internationally.
"We know that parents troubled by violence or stress are likely to have a hard time providing for the security and healthy development of their children. This is not the parent's fault," says Ford. "In turn, their children run the risk of developing behavioral and emotional problems that often persist into adulthood – again, not because either the parent or child is failing, but because stress takes a toll on them.
"We think we can begin to break this vicious cycle," he adds, "by reaching out to stressed parents and offering them real skills and encouragement at a crucial time in their child's development."