Urban Plunge Exposes Student
Volunteers To Inner City Issues
By Sherry Fisher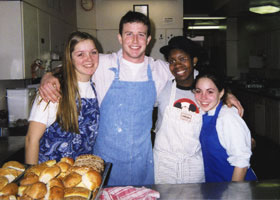 Photo supplied by Sister Alberta Surowiec
They worked in soup kitchens, talked with the homeless, and toured a jail. They slept in a women's shelter and made the rounds with police.
That's how 10 UConn students spent their winter break in Washington, D.C.: They took the Urban Plunge, a week-long volunteer program that gives students an opportunity to experience inner-city life.
"The program immerses students in the lives of others," says Matt Farley, coordinator of UConn's Office for Community Outreach, which sponsored the event with the St. Thomas Aquinas Center. In its eighth year, Urban Plunge is offered during winter and spring breaks. Sites for the plunge in the past have included Bridgeport, Hartford, Philadelphia, Boston, and Brooklyn, N.Y.
"Students are looking for dynamic and engaging experiences, and this is a great way to get out there," Farley says. "They're often too busy during the school year to be involved in service, so this is ideal for them."
Before they leave for Urban Plunge, participants are required to read a series of articles about the issues faced by people who live and work in a contemporary urban environment. Students meet once a week for eight weeks to discuss these issues.
Sister Alberta Surowiec of St. Thomas Aquinas, who led the trip, started the Urban Plunge program in 1997. "The program offers students an opportunity," she says. "Many of them have never seen such stark poverty. When they come back, they are transformed."
Participants did something different each day. Projects included preparing meals at D.C. Central Kitchen and serving meals at local soup kitchens; sitting in on court cases and taking a tour of a cell block at Superior Court; delivering food to AIDS patients in the city; staying overnight in a women's shelter; and meeting with patients and counselors at St. Elizabeth's Hospital, the largest mental health facility on the east coast.
Mary Serrell, a junior majoring in elementary education, says the experience reenergized her to "get back out there. I volunteered a lot when I was younger, but stopped when I went to college."
Serrell says talking with homeless people and listening to their stories made an impact on her. "Some were people with college degrees," she says. "It can really happen to anybody." She notes that many of the homeless said they just wanted someone to talk to.
"I can't change the world," she adds, " but if talking to someone who is homeless makes a difference in their lives, I feel more empowered."
Daniel Stockemer, an exchange student from Germany majoring in political science, says meeting homeless people was an "eye-opener." He was deeply moved by the fact that someone with a job and a "normal" life could end up on the streets.
"It was really shocking that this is going on in an industrialized country like America," he says. "Something is going wrong. If it weren't for the volunteers living in the city who help out on a regular basis, these people would really be lost."
He says the experience "really shapes you. It's not over when you go home. It makes you see the world differently."
Erica Damiata, an English major with a minor in human rights, is Urban Plunge's student coordinator. "During the semester, students are busy with school and clubs, and it's hard to commit to service," she says. "With the program, you have a week and you dedicate yourself to it."
Breyonne Golding, a sophomore who did an Urban Plunge in Boston as well as in Washington, D.C., says her experiences have clinched her decision to major in urban and community studies. "I've always been interested in helping people and I love community service," she says.
Her experience has inspired her to start a book bag fund for the homeless living in Washington, D.C. "A lot of the homeless people asked for bags for their stuff," she says. "There were only two bags in the shelter, and there were 40 men." She is planning to contact schools in Connecticut and set up donation boxes where children can donate their used book bags at the end of the school year.
She says the experience gave her a "different perspective" on the homeless. "I thought they must be drug addicts or came from a bad household," she says. "But I came to find out that most of the women who were homeless came from a domestic violence relationship."
Golding says the experience "opens your eyes to reality, because a lot of us are sheltered from the real world."
Surowiec says she is struck by the "hope and courage" of the people they met in the city and "the generosity of the students who take time out of their vacations to work, eat, and live simply. It's inspiring."