Human Rights Gallery Opens
At Benton With Exhibit On Race
By Sherry Fisher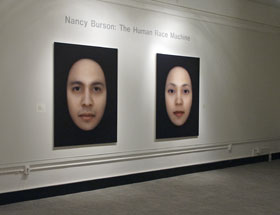 Photo by Gabriel M. Ortega Berger
A "human race machine" will be the first exhibit featured in the new Human Rights Gallery at the William Benton Museum of Art.
The machine, created by artist Nancy Burson, uses an interactive technology that makes it possible to view one's face with the characteristics of six different ethnicities – white, black, Asian, Hispanic, Middle Eastern, and Indian.
The new Human Rights Gallery, located between the Gilman Gallery and East Gallery, will be used exclusively for visual art exhibitions, public outreach, and education programs addressing human rights issues around the world. The Benton will formally dedicate the gallery Feb. 1 at 3:30 p.m.
Sal Scalora, director of the museum, says the establishment of a Human Rights Gallery, and opening with Burson's Human Race Machine, are "exponentially giant leaps forward" for the museum. "It signals our strong, unwavering commitment to reaching out to students and adults of all ages to present and confront difficult global issues and to offer discourse in these core essential areas of humanism and social justice."
Scalora says he wanted to have "a very important first exhibit" in the new gallery. "I think a lot of violence in the world and human rights violations are based on racial hatred. So hopefully this machine can be part of diversity education on campus – a centerpiece that investigates race and racial issues."
Adds Scalora, "The beauty of the machine is that it's showing you something that you could never know – who you could have been if you were born into a family of a race different from your own. It will make people reconsider their own feelings about race."
The Office of the Vice Provost for Multicultural and International Affairs has partnered with the Benton Museum to bring the Human Race Machine to the University.
Burson, its creator, says, "The more we can recognize ourselves within each other, the more we can connect with the human race. There is only one race, the human one. The concept of race is not genetic, but social. There is no gene for race."
The Benton now has official partnerships with the Thomas J. Dodd Research Center, the Human Rights Institute, and the UNESCO Chair and Institute of Comparative Human Rights. "We will work together and benefit each other mutually through our programming," Scalora says. "I'm excited about that."
In October, for example, during the University's annual comparative human rights conference, the Benton will host an exhibit from South Africa called "Women's Voices." The show will include the work of 140 women who use fabric, stitchery, and beadwork to create pictures of one of the most important days of their lives, during or after the apartheid period. "These women are giving witness, through thread, fabric, and beads," Scalora says. "It will be powerful."
Scalora says exhibits at the Benton dealing with human rights issues have had "an amazing appeal." He says the exhibition James Nachtwey: Testimony, a collection of 140 photographic images of some of the world's most brutal war and genocide zones in the past 20 years, was "one of the most successful exhibits we ever had. About 3,000 school children came through the museum in eight weeks."
That exhibit also drew many members of the University community, he says: "I've had people tell me they were so moved that they spent hours here. That's what the visuals can do. I had a graduate student tell me that she is actually going to dedicate the rest of her life to human rights because of the Nachtwey exhibit."
Scalora says the new gallery is a prelude to his dream of building an addition devoted to human rights. "We would have a screening room for videos," he says, "and an area where researchers from all over the world could come and do their work."