Primary Care Specialist Honored
By American Medical Association

One of the most prestigious honors in medicine, the Pride in the Profession Award, was presented this year to Dr. Bruce Gould, associate dean for primary care at the Health Center and medical director at Saint Francis Hospital/University of Connecticut Primary Care Center at the Burgdorf/Fleet Health Center in Hartford.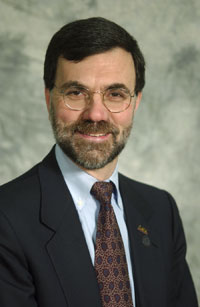 Photo by Janine Gelineau
Given annually by the American Medical Association Foundation, the award honors physicians who "through their service bring a sense of pride to the medical profession and whose actions promote the art and science of medicine and the betterment of public health."
Gould was recognized for championing innovative programs to provide medical assistance to migrant farm workers, and for his role as a life-long advocate for underserved populations.
He serves as director of the Connecticut Area Health Education Center Program, a program dedicated to providing better and accessible health care for underserved populations and was instrumental in establishing the Migrant Farm Workers program at the UConn School of Medicine in 1998.
The mobile free clinic was created as part of an already existing community collaboration among a number of area organizations working together with growers to secure medical care for farm workers.
Under Gould's direction, the farm workers program has flourished and is now part of a larger collaboration of organizations. It is coordinated by UConn medical students, and involves students from the UConn dental and nursing schools, as well as health care students from other colleges and universities. For the past few years, the Hartford County Medical Association has worked with students, helped recruit physician preceptors, and provided some funding for medications and student coordinator positions. "This is truly a community-based academic partnership that includes many schools, students, and organizations" says Gould.
Recently, Gould was appointed to a one-year term as chair of the National Advisory Council on Migrant Health, a program of the U.S. Department of Health and Human Service, Health Resources and Services Administration.
The award selection committee included representatives of the AMA Board of Trustees, House of Delegates, and AMA Alliance.
"Bruce has certainly earned this recognition," says Dr. Peter Deckers, medical school dean and executive vice president for health affairs. "He has contributed magnificently and with unwavering dedication to the School of Medicine and its programs to help the underserved."
Gould was honored at an awards banquet March 28, before the AMA's National Advocacy Conference in Washington, D.C. The following day, a full page ad appeared in USA Today congratulating the recipients.
The other award winners were Dr. Quynh Kieu, a pediatric physician in Fountain Valley, Calif.; Dr. Jack B. McConnell, founder of the Volunteers in Medicine Clinic in Hilton Head, S.C.; and Dr. Leonard J. Morse, past present of the Massachusetts Medical Society in Waltham, Mass. The honorees received a $1,000 grant, and travel expenses to attend the conference.