Recreation Facilities To Be Open
Extra Hours During Summer, Weekends
Summer and weekend opening hours for the recreation facilities on campus are being increased, the Division of Athletics has announced, restoring hours that were reduced because of budget constraints last year and adding extra hours. Summer softball league is also being restored.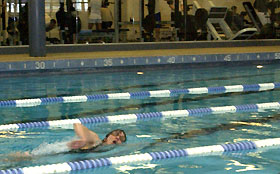 Photo by Dollie Harvey
The recreation facilities include Guyer Gym, Field House, Brundage Pool, fitness centers and weight rooms, and squash and racquetball courts.
"We feel that recreational services are a vital part of students' experience here at UConn, and that physical exercise and the ability to take part in recreational activities with fellow students are a very important part of the services we provide in Athletics," says Jeff Hathaway, director of athletics. "It is a priority of ours to make sure we provide as many hours as possible for students to use the facilities.
"The recreational facilities also get an extensive amount of use from faculty, staff, and graduate students, and we try to be cognizant of their schedules as well," he adds.
On an average day during the semester, more than 3,000 users take advantage of the facilities, and some days the figure exceeds 4,000. The number drops during the summer and other breaks, when there are fewer students on campus. Currently, about 500 faculty and staff have memberships to use the recreation facilities.
The cost to faculty and staff members is $100 per semester, and $100 for the summer. Undergraduate and graduate students may use the facilities free if they are full-time students; part-time students pay $25 per semester.
Patti Bostic, executive director of the Department of Recreational Services, says "The Division of Athletics is committed to providing opportunities for healthy lifestyle choices for all members of the University community, and to keeping the facilities open for as many hours as possible in order to accomplish that."
The new hours are:
During the semester:
Monday through Friday, 6 a.m. to midnight


Saturday and Sunday, 9 a.m. to midnight (opening one hour earlier)
During summer, intersession, and spring break:
Monday through Friday, 6 a.m. to 8 p.m.


Saturday and Sunday, 10 a.m. to 4 p.m.
The facilities will be closed on:
Memorial Day
July 4
Thanksgiving break
Dec. 25
Jan. 1