Inspirational Women Honored
During Health Center Ceremony

Eight women at the UConn Health Center have been honored for overcoming obstacles and inspiring others.
They were recognized on March 17 during a ceremony sponsored by the Health Center's Office of Diversity Programs in celebration of Women in History Month.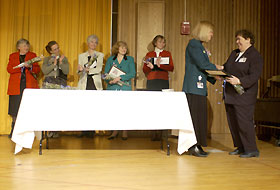 Photo by Peter Morenus
The group was drawn from a range of occupational fields, including nurses, doctors, clinicians, researchers, faculty members, and administrators. The women work in diverse Health Center units, including the Asylum Hill Family Practice, Community Medicine, Hospital Administration, the University Medical Group, the School of Medicine, and the Health Career Opportunities Program.
The women honored were: Alicia Craffey, instructor in genetics and developmental biology at UConn Health Partners in West Hartford; Mary Jane Osborn, professor emeritus and former head of microbiology; Jeri Hepworth, professor and vice-chair of family medicine at Asylum Hill; Petra Clark-Dufner, educational and development specialist, Health Career Opportunities Program; Ann Marie Capo, assistant vice president, ambulatory services, University Medical Group; Dr. Beatriz Tendler, assistant professor, section on hypertension, Department of Medicine; Jane Ungemack, assistant professor of community medicine and health care; and Jeanne Lattanzio, associate vice president, operations, and director of nursing.
"These women were named because they have served as role models both through their work and through their ability to balance life and work goals, and because they are inspiring leaders and compassionate, caring colleagues," said Mary Rydingsward, a supervisor in the office of fiscal administration-research, and a member of the committee which organized the event.
Osborn is a member of the National Academy of Sciences, and a former member of both the National Research Council Committee on Space Biology and the advisory council of the NIH's Division of Research Grants. She was cited as "a natural leader, excellent scientist, and fine human being."
Clark-Dufner was described as a "consummate professional and a true colleague, whose interactions with diverse groups and individuals are carried out with personal integrity, commitment, caring, and professionalism."
Capo was described as "a true leader," whose caring attitude toward the nurses she works with carries over to better care for patients.
Ungemack's nomination described her consideration of and appreciation for the staff; her positive attitude and composure; and her ability to balance the demands of family and work.
Craffey was cited for her work with patients, students and residents, and colleagues.
Hepworth was cited for her scholarly activities, her passion for serving her patients and families, and for being a "daily inspiration" to the working mothers in her office.
Tendler was praised for being "informational and informative ... helpful and motivational ... and dedicated and proactive in women's health issues."
Lattanzio, who is retiring as director of nursing, received a standing ovation. She was lauded as "a role model to all nurses entering this profession," and "a dedicated hard worker who has always put the welfare of the patient first."