Aliza Wilder Confirmed As
Director Of Human Resources

Aliza Wilder has been named director of human resources, after serving in the position on an interim basis since July 2002. The appointment took effect in January.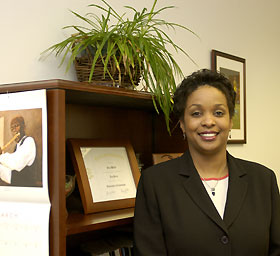 Photo by Dollie Harvey
"Aliza has done an outstanding job as interim director over the past two years," said Linda Flaherty-Goldsmith, vice president and chief operating officer, who announced the appointment. "We want to ensure that we can continue to benefit from her many gifts."
A national search is currently underway for a new associate vice provost for human resources and payroll services, to whom Wilder will report. She currently reports to Flaherty-Goldsmith.
As director of human resources, Wilder is responsible for recruitment, compensation programs, employee benefits, and labor relations, over-seeing a department comprised of 25 full-time positions.
Wilder says the major tasks that face her include improving labor relations management; stepping up efforts to assist departments with recruitment and retention; strengthening orientation for new employees; and, in collaboration with the College of Continuing Studies, boosting training initiatives for staff and managers.
Wilder, who grew up in Washington, D.C., came to UConn as an undergraduate student in 1979. After taking time off to raise a family, she completed her bachelor's degree in human resources and business management at Eastern Connecticut State University.
She began working at UConn in 1983 as a temporary personnel assistant and has worked her way up. From 1990 to 1994, she held the post of personnel officer. From 1994 to 1997, she was contract administrator and classification associate in the Department of Labor Relations. In 1997 she was promoted to manager of classificati on and compensation, and the following year became manager of employment services.
In 2001, she was promoted to associate director of human resources. She has served as interim director of human resources since 2002.
Wilder says one of the most significant changes she has seen in the human resources field during her career is the growth of information technology. "While technology has made many processes more manageable, and improved the timeliness of our response to our customers, it also presents us with new challenges in regards to customer expectations," she says.
Wilder says throughout her career at UConn, she has sought to be collaborative and fair in her approach. In her work with labor constituencies, for example, she says she has encouraged collaboration by emphasizing that all the parties work for the same University. Another accomplishment of which she is proud is her work on the classification system for professional jobs, during which she took steps to boost the confidence of all parties that decisions were being made fairly.
Having worked for UConn throughout her professional career, Wilder says she regards the University community as 'family': "I know the culture well," she says "and have grown with this family."