Williams Has Range Of Plans
To Enhance Diversity At UConn

The problem with diversity programs is that they often don't reach those who most need them, according to Damon Williams, Williams hopes to change that.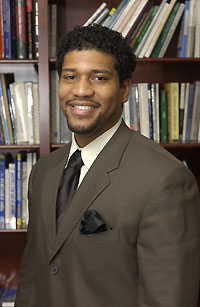 Photo by Peter Morenus
His approach is to redefine diversity education as leadership development, and to actively encourage all UConn students to develop leadership skills. "It's about acquiring core skills, similar to planning and budgeting," he says.
Preparing for the Future
"A lot of diversity education is 'preaching to the choir'," says Williams. "But if students don't get involved in these types of programs, we are doing them a disservice, because they are leaving UConn without experiences they could have benefited from." The cultural centers, he notes, offer excellent opportunities to explore diversity issues, but few white students take advantage of them.
According to Williams, many students have had little exposure to racial and economic diversity before they come to UConn. He says a majority of UConn students - including white students and students of color - have grown up in neighborhoods and attended schools in demographically isolated areas with little or no significant contact with people from other racial or socio-economic groups.
"UConn students are going to have to interact with people who are different from them in the workplace and in society," he says, "and the University has a responsibility to help them acquire the relevant skills by the time they graduate. This is about students' ability to thrive once they leave the University environment."
A Broader Focus
Williams is developing programs that are intended to complement the new diversity components of the curriculum, which are part of the new general education requirements.
Diversity programs can help all students learn to interact with people different from themselves, he says.
"Many people think of diversity education as just anti-racism, and they say, 'I'm not prejudiced, I don't need that.' They personalize it. They don't realize it's something broader than that," Williams says.
There is also a body of research suggesting that "being in diverse contexts leads to greater cognitive complexity," he adds. "Being able to take the position of someone else actually enhances thinking ability."
One of the initiatives he is developing is a program intended to enhance the ability of student leaders to flourish in settings that are socially, economically, and culturally diverse.
Williams says growing ethnic diversity among the U.S. population may soon make some states or areas feel like a different country.
At the same time, he says, there is an increasing emphasis on teamwork in the workplace, and on leadership that is defined by a person's role in relation to a particular project.
"What's critical is being able to work in that environment," he says, "at a time when there are more professionals of color, more international people, and more women. We want to enhance our graduates' abilities in these areas."
After Michigan
Williams came to UConn in 2002 from the University of Michigan, an institution where affirmative action was a major issue last year. He earned a Ph.D there, and worked for four years in the Office of Academic Multicultural Initiatives.
He says the 2003 Michigan Supreme Court rulings, in which the court upheld the educational benefits of diversity and allowed universities to consider race as a factor in admissions, have had an enormous impact on higher education.
Williams hopes to help build the Office of the Vice Provost for Multicultural and International Affairs at UConn.
Developing student leadership abilities is just one of his priorities. Others are to enhance institutional capacity for diversity; to expand access and equity for students, faculty, and staff; and to assess diversity issues across campus.
Increasing Representation
The office works with the Office of Enrollment Management and other units on campus to increase the number of historically underrepresented students at the University and to increase their retention and success here. In pursuit of this goal, Williams is directing the UConn component of the Louis Stokes Alliance for Minority Participation, an alliance of New England institutions.
The five-year program, funded by the National Science Foundation, the University, and Pfizer Inc., seeks to double the number of historically underrepresented students graduating in science, technology, engineering, and math. Developed at UConn by professors Ronald Growney and Suman Singha, it was launched as a pilot last year with 15 students. For this year's cohort, Williams broadened the criteria beyond race to include first-generation college students.
The program is designed to strengthen the participants' academic and quantitative skills. Many of these students, he says, have a hard time adapting to the University environment, both culturally - they often find themselves in an extreme minority - and academically, in terms of study requirements.
In science subjects, says Williams, it is often better to study in groups, but students of color may be hesitant to join such groups, and those who do take part don't realize the need to invite students other than their own friends. This is one of the reasons why historically underrepresented students, although they may have the aptitude, often leave their intended major, he says.
The program includes working with area middle and high schools, to create a "pipeline" for minority students to attend college in these fields.
Another new project that seeks to boost the enrollment and retention of minority students in science and technology, math, engineering, and health-related areas, recently received a $150,000 planning grant from the Connecticut Health Foundation. The initiative is a collaboration with the schools of allied health, nursing, and pharmacy and the College of Liberal Arts and Sciences.
Williams also participates in about a dozen University-wide committees through which he hopes to have a broad institutional impact. "Diversity is not solely a multicultural and international affairs issue," he says. "It's a UConn issue."
A Wide Audience
Another initiative through which Williams hopes to reach a wide audience is an interactive website, to be launched next month. The site will include a bulletin board, with updates on such issues as implementation of the Diversity Action Plan and the proposed move of the cultural centers to the Student Union, as well as profiles of individual faculty, staff, and students. "There are 1,001 ways to be a UConn student, and 1,001 ways to be a UConn faculty member," Williams says. "We want to communicate that this is a place that is inclusive and accepting of that."
Williams says diversity education is not about trying to promote a particular ideological perspective: "We're not looking for everyone to support affirmative action, for example, but we are about trying to help people understand different people and different experiences, so when they make a judgment, they will make that judgment based on a sound assessment."