Sackler Artist-In-Residence Specializes
In Performance As Visual Art

In one photograph, the artist lies naked on her side, holding a human skeleton. In another photo, she stares ahead from behind an urn, while her hand, not quite touching the object, seems to feel its energy.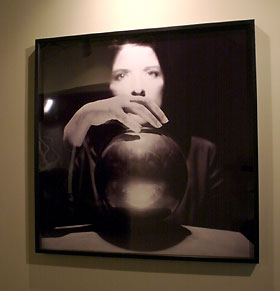 Photo by Melissa Arbo
The photographs are part of Count on Us, an exhibit of new large-scale works by Marina Abramovic. The five pieces - some eight feet in scale - will be on display in the Atrium Gallery in the School of Fine Arts Building through March 21. The show also includes videos of her art, from the 1970's to recent years.
Abramovic, who is known worldwide for her use of performance as a visual art form, is UConn's most recent Sackler Artist-in-Residenc e. The program was established by philanthropists Raymond and Beverly Sackler to bring renowned artists, playwrights, and musicians to the University to create new works, while interacting with students.
"We are fortunate to have an artist of her stature at the University," says Barry Rosenberg, director of UConn's Contemporary Art Galleries in Storrs and Stamford, which include the Atrium Gallery. "Her work is in every major museum in the world."
Rosenberg says the work she created for the exhibit relates to her return to her native Yugoslavia.
Born in Belgrade, Abramovic studied at the Academies of Fine Arts there and in Zagreb. She moved to Amsterdam in 1975 and continues to live there and in Manhattan.
She started her career in the early 1970's. Abramovic uses her body as both subject and medium to examine her physical and emotional limits. She often withstands pain and discomfort during her performances. In one of her early works, for example, she lay down inside the blazing frame of a wooden star that had been set afire.
Abramovic recently conducted an all-day workshop for graduate students. It included breathing and chanting exercises, work with colors and their emotive qualities, and brainstorming for performing ideas.
Cara Vickers-Kane, an MFA student in photography, said the workshop was "great. She was awesome and open."
Abramovic's work in performance and video developed into collaboration with her former partner. Together, they explored human relationships through art. They broke up after they walked from opposites ends of the Great Wall of China, meeting, for the last time, at a middle point.
"She uses art to raise her consciousness level and learn more about herself," Rosenberg says. "She takes energy from her audience, and also gives it."
Abramovic received a Bessie award in the category of installation/new media for The House with the Ocean View. For that work, she spent 12 days living on three open platforms in the Sean Kelly Gallery in New York. During that time, she did not eat or speak. The Bessies acknowledge outstanding creative work by independent artists in the fields of dance and related performance in New York City.
The Atrium Gallery is open Monday through Friday, from 8:30 a.m. to 4:30 p.m.