Cytotechnologist Recognized For
Accomplishments In Field

Since 1992, Nancy Smith, an associate professor of pathology at the Health Center, has won every national award available to cytotechnologists.
The American Society of Cytopathology (ASC) President's Award, which she received in 2003, completed the sweep.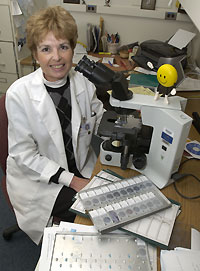 Photo by Peter Morenus
Cytotechnology is the science of evaluating cells from anywhere in the body, looking for the presence of malignant disease or pre-malignancies. The science and the skills involved play a crucial role in medicine: many therapies are based on a cytotechnologis t's evaluation of cellular samples.
Smith's awards include the ASC's Cytotechnologist of the Year Award in 1992; the American Society of Clinical Pathologists Lifetime Achievement Award in 1996; and ASC's Excellence in Education Award in 2000.
"Her accomplishments are truly exceptional and deserving of special recognition," said Dr. Faripour Forouhar, a professor of pathology at the Health Center, when Smith received the ASC President's Award.
A Variety of Roles
Smith's citations reference her extensive work nationally; her significant contributions to the education of cytotechnologists; her leadership on workforce issues; and her activities promoting the professional identity of cytotechnologists.
She also has served as editor of the ASC Bulletin; member and chair of the Cytotechnology Programs Review Committee; ASC executive board member; ASC liaison and member of the Commission on Accreditation of Allied Health Education Programs; Food and Drug Administration panel consultant for device evaluation;
Cancer Cytopathology editorial board member; and member and chair of the American Society of Clinical Pathologists Board of Registry Cytotechnology Examination Committee.
"We're delighted that Nancy received the ASC President's award," says Dr. M. Melinda Sanders, division chief of anatomic pathology. "It's an appropriate recognition of her contributions to the field outside the institution, and we in the lab can share in her many accomplishments."
Smith's roles at the Health Center include clinical work, lab supervisor, and educator.
She arrived at the Health Center in 1979, with a master's degree from UConn, after a stint in a hospital and four years in a private sector lab. In the late 1970's and early 1980's, there was a critical shortage of cytotechnologists in Connecticut. Smith is so highly valued at the Health Center that she is one of just a handful of senior faculty in the School of Medicine who do not have a terminal degree.
Training Students
In her early days at UConn, Smith was working with Dr. Bernard Gondos, then director of anatomic pathology. The two recognized the need and began to plan for a cytotechnology training program.
Working with colleagues in the School of Allied Health at Storrs, the pair initiated New England's only cytotechnology baccalaureate program. Gondos was the program's first medical director; Smith was the program director, a position she still holds. The first class was admitted in August 1982.
Students take classes at Storrs for the first three years and spend the final 12 months of their degree based at the Health Center: eight months of classes and four months of clinical training at sites such as Hartford Hospital, St. Francis Hospital & Medical Center, and Yale-New Haven Hospital, as well as private sector sites such as Connecticut Pathology Labs, Pathology and Laboratory Services, and Quest.
"For the last 22 years, we pretty much have filled Connecticut's need for cytotechnologists," Smith says proudly.
Pride helps, because the discipline, though vital, carries little star power. Anatomic pathology is housed on the ground floor of the Health Center, adjacent to Rehab Services. It's deep inside the building and the laboratory has no windows.
"The discipline of cytotechnology suffers from a lack of recognition," Smith says. "We work in the basement. We don't have patient contact. Slides and samples disappear into the bowels of the hospital and no one knows what happened to them.
"But we're the only lab discipline where the technologists have the responsibility of signing out on their own name a negative Pap diagnosis. We have a higher level of responsibility," she says. "No other lab discipline has that kind of authority."
An Evolving Field
After 30 years, Smith says, the field is still fresh. The educational component helps, but so does the increased knowledge base and technological innovation.
"I love working with college students. They help you keep up-to-date," she says.
"The fact that the field is changing also keeps it exciting," she adds. "For example, when I started we did not have fine needle aspiration, and we did not know the connection between human papillomavirus and cervical cancer.
"The field continues to evolve," she adds, "and we're now moving into the area of molecular biology. That keeps it interesting."