Talented Teens Enjoy Challenges
Of Technology Program


ourteen-year-old Kenny Alba tinkered with the wheels of a colorful Lego robot. "We're trying to do something different," he said, adjusting one of the plastic bricks. "We want to get it to dance the Electric Slide."
Nearby, Zach Hopkins fine-tuned a robot that played "Mary Had a Little Lamb" on a tin can banjo, called a "canjo."
Alba and Hopkins were two of 66 technologically savvy teens who participated in a new summer program on the Storrs campus. Future Achievers in Computing & Technology (FACT), sponsored by the College of Continuing Studies, consisted of two one-week sessions held July 27 through August 1 and August 3-8. Participants lived in Buckley Hall and used facilities in the Bishop Center.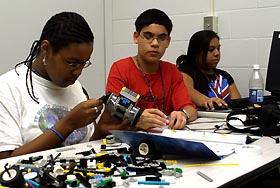 Photo by Dollie Harvey
"FACT was designed for students ages 12-15 who enjoy computers and want to learn more about technology," said Andrew DePalma, the camp's director. "They really enjoyed it."
DePalma, director of information technology and a faculty member in the College of Continuing Studies, created the program with Lisa Mikolinski, a computer technical support consultant for UConn's Information Technology Services.
"We wanted to inspire youngsters to investigate and understand computing and technology and have fun at the same time," Mikolinski said.
Participants used Lego Mindstorm kits donated by the Lego company - complete with software, gears, pulleys, belts, and motors - and computers donated by Dell, to create and program small mechanical robots. Commands were downloaded from the computer via wireless infrared signals into a microcomputer contained in a Lego brick on the robot.
Every day, students huddled around computers in small groups and built robots in a room in Bishop Center. Lego pieces were everywhere and small robots made of the plastic bricks meandered around the room.
On this day, 12-year-old Louise Lisboa from Harding Health Magnet School in Bridgeport was perfecting her team's robot line-follower. "We rebuilt it," she said.
She said she decided to come to FACT camp because she is interested in computers and robotics, and has always "had fun with computers."
Hopkins was eager to explain how his first project, a line-follower, worked. "The light sensor on the robot is used to see the black track on the white paper and help it get around," he said.
Youngsters were given fewer instructions for their projects as the week progressed, Mikolinski said, "allowing them to be creative and really use their imaginations."
One of the projects, building a robot that can play a tune on a canjo, was particularly challenging to some campers. But they didn't seem to mind.
"We had to build them without instructions," said Kasy Kasper, 14, a student at Marianapolis Prep School in Thompson. "He [DePalma] gave us clues, without telling us how to do it. It was educational, but fun."
Hopkins said, "It's challenging to get the notes right and to build the instrument that makes the sounds."
Alba and his teammate Cody Gondyke, 12, were still fiddling with their robot, in hopes of getting it to dance. "I think we can get it to work," Alba said, "but the engines don't seem to have enough power."
Mikolinski offered a suggestion. "Maybe try it on a floor, without carpeting," she said.
Four counselors were with the youngsters day and night. Phil Ames, a UConn sophomore studying computer science and engineering, enjoyed working with the youngsters. "It's interesting to see that after a couple of days they come out with finished projects," he said. "I'm learning a lot myself."
---