A Close Call: Health Center Administrator
Helps Avert Tragedy
By Pat Keefe
When telephone operators at the Health Center looked at the teletypewriter early one morning this summer, they found a message unlike anything they had seen before: "I'm going to kill myself ..."
The teletypewriter - or TTY - is a telephone-like device used by people who are deaf to communicate.
With a message that unnerving, the operators called on their supervisor for help.
Charles "Chuck" Fink, assistant vice president for telecommunications at the Health Center, was in his office 20 yards away from the switchboard.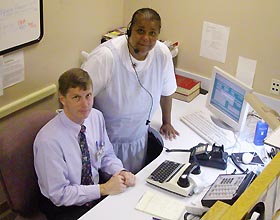 Photo by Peter Morenus
"I was at my desk at 7:40 or 7:45, when the operators called and said they had a situation and asked me to come over," recalls Fink. "I went in and found out there was a caller on the TTY threatening to kill himself. I told the operators to handle the phones and I'd do the TTY."
While Fink responded to the caller, the operators called Health Center police and advised them what was happening.
Fink told the caller who he was, offered to help, and started a conversation. In the course of the dialogue, the caller revealed his address. He also indicated he was a fan of the New York Yankees baseball team, and Fink was able to engage him in a discussion of the current state of the American League.
Meanwhile, the operators relayed the information to the Health Center police, who let the West Hartford police know that a town resident was threatening suicide. Fink and the caller were still messaging back and forth as police knocked on the front door.
"He told me the police were at the door and I asked him if he was OK. He said yes and then we rung off," Fink says.
The police, accompanied by town Emergency Medical Services personnel, arranged for the caller to be treated locally.
The 30-minute incident had a happy ending and a couple of take-home lessons for Fink.
"It was a pretty unusual occurrence," he says, "and I learned a couple of things from it: First, the system worked. Whether TTY or verbal, the operators knew what to do and the police were just great. Quick response and cooperation - not just between Health Center offices but between the Health Center and West Hartford - prevented what could have been a tragedy.
"Second, the incident re-emphasized the service nature of the work we do," Fink adds. "Telecommunications is a service industry, and our operators and technicians are serving customers and helping people all day. It makes you feel good when you can help somebody. Being able to help a caller in obvious distress gave me a better appreciation for what the medical staff are doing on a day-by-day basis."
---