New Optical Shop Opens On Health Center Campus

What was once a quiet corner in the lobby of the Health Center's Dowling South medical office building is now a new optical shop, featuring a full selection of fashionable and functional eyeglasses, contact lenses, sunglasses, and low-vision aids.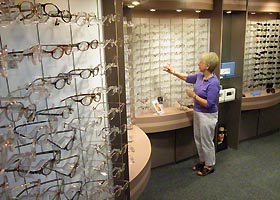 Photo by Peter Morenus
The transformation happened during the late spring and early summer. The shop, run by Harvey & Lewis Opticians, opened at the beginning of July.
Harvey & Lewis is a 113-year-old family-owned business, with seven other locations in the greater Hartford area. The company was invited to establish the new shop by the Health Center's Division of Ophthalmology.
On the second floor of the Dowling South building, Health Center ophthalmologists Dr. Jeanine Suchecki and Dr. William Ehlers offer patients comprehensive eye care, including routine exams, medical and surgical management of eye problems including cataracts and glaucoma, and laser vision correction.
"The optical shop completes the range of eye care services at the Health Center," says Marie Whalen, chief operating officer. "It's a great convenience for Health Center patients and employees."
Harvey & Lewis participates in most major health plans, including Anthem's Eye-Med and ConnectiCare. Health Center employees and their families will receive a 20 percent discount on purchases.
The shop is open Monday through Friday, from 8:30 a.m. to 5 p.m. The phone number is 860.679.8880.
---