It's Hot: New Book Tells How To
Prevent, Survive Heat Illnesses


weltering temperatures this summer have caused serious health problems from Texas to Canada and overseas in France and England. At times, heat illness can kill. It has been blamed in the recent deaths of several U.S. soldiers in Iraq.
But although heat illness can be serious, there is a lot of confusion about its symptoms and treatments. Now, a team of UConn scientists has put together a first-of-its-kind heat illness survival guidebook.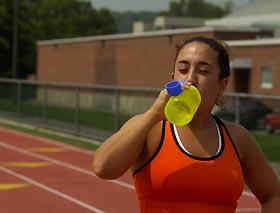 Photo by Dollie Harvey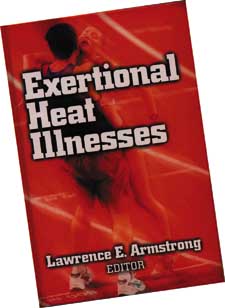 Exertional Heat Illnesses offers practical advice and effective treatment options, along with the causes and prevention of the five illnesses that are commonly experienced in hot environments. They include: heatstroke, heat exhaustion, heat syncope - sudden dizziness after exercising in heat, heat cramps, and hyponatremia - a dangerous electrolyte abnormality.
"People vaguely are aware of these illnesses, but few understand that they affect a variety of organs and systems in our bodies, from muscles to the kidneys and heart," says Larry Armstrong, a professor of kinesiology and an expert in exercise and environmental physiology.
He believes it is important to understand that anyone can experience any of the heat illnesses if they work or exercise long and hard enough in the heat. Most often, says Armstrong, "Heat injuries occur in otherwise healthy individuals who have pushed themselves beyond safe limits during exercise in the heat."
Armstrong served as the book's editor, and also authored or co-authored six of the 10 chapters. Other co-authors included three colleagues from his department, Douglas Casa, Jaci VanHeest, and Carl Maresh, department head. Jeffrey Anderson, director of sports medicine in the Department of Athletics, also contributed, along with several colleagues from other institutions.
In Armstrong's experience, people often do not take heat-related conditions or their consequences seriously. "For that reason," he says, "I hope this book will improve diagnosis and treatment of all heat illnesses."
With this in mind, the handbook was designed to better train "weekend warriors", as well as coaches, athletes, medical personnel, and athletic trainers on the topic. It can also be used as a textbook. Armstrong suggests that not much was out there "for an educational resource." Over the years, he and other faculty have had to refer students to a variety of books or sources for heat illness information.
One of the book's strengths is explaining the subtle differences among the heat illnesses. While most caregivers have some knowledge of them the depth of their knowledge is insufficient to treat patients optimally, says Armstrong.
For example, the symptoms for heat exhaustion and heat stroke at first may seem to be similar. But heat stroke, a far more serious condition, should be treated as a medical emergency.
"Sports and medical personnel have to understand those subtle differences, because in the case of heatstroke, appropriate cooling must be administered within minutes, or the victim could die," he explains.
For 25 years, Armstrong has been devoted to the topic. For seven years, he worked in the heat research division at the U.S. Army Research Institute of Environmental Medicine. Over the years, he has collected data on runners in the Boston Marathon medical tent, and has himself completed 14 marathons.
The handbook, published by Human Kinetics, includes a breakdown of how the body reacts to different heat illnesses, checklists for medical staff working with athletes in the heat, and case reports detailing how other practitioners respond in real-life emergencies.
Also included are four position stands relating to heat, hydration, and exercise from the American College of Sports Medicine and the National Athletic Trainers' Association that are used as guidelines by medical and sports personnel.
---