As mentioned in my column last November, one of my priorities has been to reconstitute the membership of the Chancellor's Commission on the Status of Women in an effort to ensure that membership in this group would support some short- and long-term objectives within the committee's area of responsibility.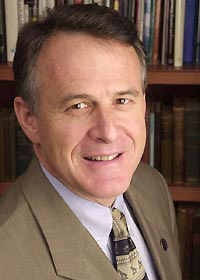 Chancellor John D. Petersen
I am pleased to report that Susan Spiggle, associate professor and department head of marketing and moderator of the University Senate, and Dana McGee, director of the Office of Diversity & Equity (ODE), have agreed to co-chair this commission.
I expect to work closely with Susan and Dana in the coming weeks to develop a set of guiding principles under which the group will function, as well as to analyze more closely and formulate an appropriate composition of the commission with representation from important areas throughout the University.
Additionally, Dana's responsibilities in ODE are aligned with the work of the Office of Multicultural & International Affairs, which is responsible for the successful implementation of the Diversity Action Plan. This plan contains many goals that relate directly to the employment and education of women and people of color.
As mentioned during the November Board of Trustees meeting, the Diversity Action Committee under the direction of Ron Taylor, vice provost for multicultural and international affairs, is working to implement a multi-faceted program to help each of us recognize the value of and embrace more diverse faculty, staff, and student populations. The University's commitment to a diverse workforce and student body is unwavering, and I will make every effort to assist in the realization of the objectives the Diversity Action Committee has outlined.
To date, we have made great strides in the area of diversifying our student population. Enrollment of minority students in fall 2002 continued on an upward trajectory, with 16.7 percent of the undergraduate student body. The Chancellor's Taskforce on Retention and Graduation continues to look at minority enrollment and retention numbers, and will continue to monitor this situation well into the future.
And, while progress has been made, more work needs to be done.
Additional work also needs to be done in recruiting, developing, and promoting women and people of color within the faculty. In 1999-2000, UConn had approximately 15 percent faculty of color, compared with UMass and Rutgers, which have about 14 percent. Although there have been some increases in the representation of minorities at UConn over the past eight years, the net increases in the employment of black and Latino faculty have been minimal.
The increases in female faculty between 1992 and 2000 have also been small. In 1992, women made up 25.3 percent of all faculty; in 2000, that number had grown only to 29.5 percent. There are currently just nine women department heads, or 17 percent of that group. Additionally, in 1999, just 31.7 percent of University administrators were women, with only a slight increase to 32.5 percent in 2002. More work clearly needs to be done in establishing and supporting women in leadership roles within the University.
Women and individuals of color play a key role in the success of UConn. The work of the Chancellor's Commission on the Status of Women, coupled with the work of the Diversity Action Committee, will create an important impetus in our drive to have a representative workforce and student body. I look forward to working closely with Susan and Dana as we begin the next phase of UConn's continuing evolution.
---