We must all be involved in taking our commitment to diversity beyond political correctness and putting it into practice.
Every day the news media are filled with horrific and graphic stories of individuals of every age, color, ethnicity and race who are faced with violations of their human rights. We all read or listen to these stories and comment openly or silently, "How can this be in 2002? Haven't we moved past this type of behavior to a more civilized society?"
The events of Sept. 11 answer with a resounding 'No!".
Racism, sexism, and so many other "isms" still exist and are part of our everyday lives. And while the segregation of individuals by the color of their skin, their religion or their gender may not be as blatant as in our past, this type of behavior continues, whether we formally recognize it or not.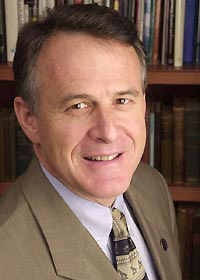 Chancellor John D. Petersen
As an educational institution, part of our core mission is to work with our students, ourselves, and members of the community to rise above the ignorance and fear that fuels human rights violations. A just society that embraces people as individuals and celebrates that individuality can be realized. We're working toward it as part of our formal and informal educational programming.
Many of you participated in our human rights semester last year and I hope that you have taken note of the programming that has been extended to this semester as well. There appears to be a developing intellectual curiosity in our students on issues related to human rights, as evidenced by increased attendance at symposia, conferences, and other special lectures. Our First Year Experience classes have also allowed for open and honest discussion on the challenges of living and being productive in a heterogeneous environment. For many of our students, this is the first time they are living, working, and studying side-by-side with individuals who come from different backgrounds. It's a learning experience for all of us.
On Nov. 13, Vice Provost Ron Taylor made a presentation to the Board of Trustees regarding the progress we are making toward achieving the objectives outlined in the University's diversity plan. While progress has been made, clearly we still have significant work to do in order to meet our overall goals. The vice provost's work will be a collaborative effort with his staff and across most departments and organizations on campus. The implementation of the diversity plan is not a solitary act. We must all be active players in its successful implementation.
Additionally, I am working with the current membership of the Chancellor's Commission on the Status of Women on the reconstitution of that committee's membership, in order to focus our efforts in advancing women on our campuses. To date, we have done many things institutionally to offer opportunities in educational excellence, leadership, and advancement to women. Although we can claim some progress in this area, the work here is clearly not over. With appropriate representation from constituent groups, the newly formed commission will function as an advisory and leadership organization that will focus on the advancement of women's issues that affect all facets of University life.
Through its work, the commission will strive to secure UConn a national leadership position in the recognition of and support for women in positions of influence and authority in the field of higher education. I'll be communicating more about this effort in the coming weeks.
We talk frequently of our institutional goal to be among the top tier public universities in the nation. There has been discussion regarding the different tactics that can assist us in this endeavor, and many have been implemented with success.
The task at hand is to make UConn a place where each of us, whether faculty, student, staff, parent, or neighbor, feels welcomed, respected, and appreciated.
Embracing diversity is the politically correct thing to do and say. The challenge is in believing it is the right thing to do and doing it. I will continue to support an environment that lives up to this challenge and will seek opportunities to further endorse a more collaborative, inclusive environment. The time is now for us to be a significant player in educating today's students appropriately, so that they can be productive members of a new world order.
---