Student who tallied fallen trees after hurricane
grew up on Faculty Row
September 28, 1998
The day after the hurricane struck in 1938, two students were dispatched to count the trees the storm had felled all over campus. One of them was Rod Longley, a junior studying horticulture.
Longley grew up on the Storrs campus - his father, Raymond I. Longley, was comptroller for the college - and the family lived in a house in what was once known as Faculty Row. These were wood-frame houses along Whitney and Gilbert Roads, some of which are still standing and now house Greek organizations and some campus offices.
Longley, now a resident of Litchfield, is a member of the Class of 1940, the first class to graduate from the University of Connecticut after its name and status changed in 1939 from Connecticut State College. He entered the college in 1936, the first year the total student population went over 1,000.
He was in Beach Hall the afternoon of September 21, 1938, the day the Hurricane struck.
"In retrospect, what strikes me the most about it is that, at that time, there was no warning. We didn't know what had happened on the shoreline. The hurricane hit all of a sudden, taking us quite by surprise. It seemed like a hard rain and then all hell broke loose," Longley says.
"We noticed the wind was up. It was very strong, and I noticed there were very tiny shreds of leaves against the screens. I didn't think anything of it and then I headed home toward Faculty Row.
"I tried to run because it was very wet and very windy, but at times (the wind) stopped me dead in my tracks," he says. "There weren't too many trees uprooted or knocked down along the way home, so the hurricane hadn't reached its peak yet."
Longley has fond memories of his years in Storrs. "It was a great place to grow up," he says. "We used the facilities and went swimming at Hawley Armory every day during the summer." He remembers playing basketball with other local boys at Hawley Armory. As a child he met Charles Beach (president from 1908 to 1928), who also lived in a house on Faculty Row. Longley's father greatly admired Beach, for whom Longley's youngest brother, now deceased, was named. As a college student, Longley was a member of the fraternity Alpha Gamma Rho that moved into the Beach house on Whitney Road in 1934.
Longley remembers Albert N. Jorgensen, president from 1935 to 1962, as being "very different from other college presidents.
"Of course he was much younger than the others," says Longley. (Jorgensen was 36 when he began as president.) "He came from the mid-west. And he believed that a university should grow and not stay the same. He did a great deal for the university and I believe he was one of the best presidents (UConn) has had."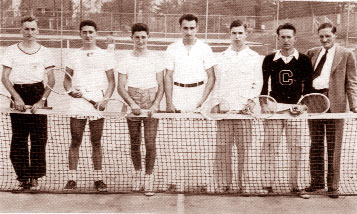 Senior Rod Longley, third from right, was a member of the men's tennis team as shown here in the 1940 Nutmeg Yearbook.
Photo by Nutmeg Yearbook, 1940
After the hurricane, Longley was one of two students assigned the task of surveying the damage to campus trees. The assignment was given by Harold O. Perkins, an instructor in landscape gardening who was also responsible for campus plantings.
Longley recalls that two areas of campus were hit very hard. Both had groves of pines. A grove of red pines, between the Duck Pond (now known as Swan Lake) and Storrs Hall, was in the area assigned to Barbara Everett for the survey. In the other pine grove, just north of Mirror Lake, Longley counted 150 trees knocked down by the hurricane, 120 of them were white pines.
"There were some very large white oaks, and oaks have a very shallow root system. With 14 inches of rain in the days just before the hurricane and the day of the hurricane, these trees just blew down," Longley said.
Many trees were uprooted, Longley says, but many were broken off. He doesn't recall how many campus trees were saved, but some blue spruce trees near Koons Hall were pulled back into place.
Mark J. Roy
---