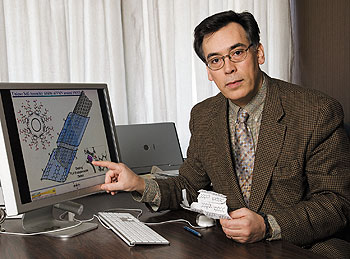 Fotios Papadimitrakopoulos, professor of chemistry, with a diagram illustrating part of his research on carbon nanotubes. Photo by Frank Dahlmeyer
Photo Extra
U.S. Sen. Christopher Dodd, left, with U.S. Rep. Chris Murphy, center, and Dr. Cato T. Laurencin, vice president for health affairs, during a news conference at the Health Center on stem cell research on March 14. Photo by Chris DeFrancesco
March 23, 2009 ¦ Volume 27, No. 24
Chemists announce nanotech breakthrough
Chemistry professor Fotios Papadimitrakopoulos and a team of researchers in the Nanomaterials Optoelectronics Laboratory at the Institute of Materials Science have found a way to smooth the surface of nanotubes, in what Papadimitrakopoulos describes as a major nanotechnology breakthrough that could have significant applications in medical imaging and other areas. Read more...
Medical student organization receives national award
The UConn chapter of the American Medical Student Association (AMSA), the nation's largest independent medical student organization, has been awarded the prestigious 2009 Paul R. Wright Award for Excellence in Medical Education. Read more...
E-mail upgrade for faculty, staff
Faculty and staff University e-mail is undergoing an upgrade that will increase mailbox size, provide added security to e-mails that are sent, and offer greater flexibility in managing out-of-office and mobile device functions. Read more...
Academic Achievement Center helps students hone study skills
Students who want to improve their academic skills and strategies have a new place to go for help: the Academic Achievement Center. Read more...
More headlines...

Multimedia...

RSS Feed of the UConn Advance

News Links

UConn News | UConn Health Center News | UCONN Magazine Athletics News

How To...

Suggest a story idea: please send e-mail to advance@uconn.edu, with "Story Idea" in the subject line. Please give as much notice as possible, and at least two weeks. Requests will be considered based on relevance to a broad audience and the availability of resources.

Have an event listed in the Advance Calendar section: please enter it online at events.uconn.edu at least two weeks prior to the date of the event. Please note that the Advance Calendar contains only events occurring during the week beginning with the date of publication.

Request permission to re-use a story or photo: please send e-mail to advance@uconn.edu, with "Re-use Request" in the subject line.

Make a change to the mailing list, please send e-mail to advance@uconn.edu, with "mailing list update" in the subject line. Please note that the Advance does not maintain separate mailing lists, but uses the databases maintained by the human resources departments at Storrs and at the Health Center. If you do not have access to e-mail, please send your request in writing to Advance, University Communications, 34 North Eagleville Road, Storrs, CT 06269-3144, or by fax to 860-486-2063, or call 860-486-3530.