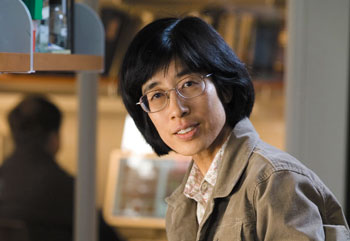 Akiko Nishiyama, associate professor of physiology and neurobiology. Photo by Al Ferreira
Photo Extra
Stuti Akella performs A Memory, A Monologue, A Rant and A Prayer: Writings to Stop Violence Against Women and Girls at von der Mehden Recital Hall on February 16. Photo by Jessica Tommaselli
February 23, 2009 ¦ Volume 27, No. 21
Hogan gives testimony on budget proposal
UConn President Michael Hogan, while acknowledging the dire straits facing the state economy, said that the governor's proposed budget, if not adjusted, would make it nearly impossible for the University's Storrs-based programs to continue the quest to become one of the nation's top public universities. He said it would also have serious implications for the future of the UConn Health Center. Read more...
Study shows defensive medicine widespread
The cost of 'defensive' medicine – tests, procedures, referrals, hospitalizations, or prescriptions ordered by physicians fearful of lawsuits – is huge and widespread, according to a study by the Massachusetts Medical Society and UConn Health Center researcher Robert Aseltine Jr. Read more...
Neurobiologist recognized for research on brain cells
Akiko Nishiyama, associate professor of physiology and neurobiology, is an unlikely iconoclast. She is a quiet presence in her own busy laboratory group of postdoctoral fellows, graduate students, research assistants, and undergraduate researchers. But after years of struggling to get her ideas and papers accepted, she is now gaining recognition for her research on cells in the brain. Read more...
Board of Trustees approves administrative measures
The Board of Trustees has agreed to merge the physical therapy and kinesiology programs into a Department of Kineosology and to eliminate the master's and Ph.D. programs in music education. Read more...
More headlines...

Multimedia...

RSS Feed of the UConn Advance

News Links

UConn News | UConn Health Center News | UCONN Magazine Athletics News

How To...

Suggest a story idea: please send e-mail to advance@uconn.edu, with "Story Idea" in the subject line. Please give as much notice as possible, and at least two weeks. Requests will be considered based on relevance to a broad audience and the availability of resources.

Have an event listed in the Advance Calendar section: please enter it online at events.uconn.edu at least two weeks prior to the date of the event. Please note that the Advance Calendar contains only events occurring during the week beginning with the date of publication.

Request permission to re-use a story or photo: please send e-mail to advance@uconn.edu, with "Re-use Request" in the subject line.

Make a change to the mailing list, please send e-mail to advance@uconn.edu, with "mailing list update" in the subject line. Please note that the Advance does not maintain separate mailing lists, but uses the databases maintained by the human resources departments at Storrs and at the Health Center. If you do not have access to e-mail, please send your request in writing to Advance, University Communications, 34 North Eagleville Road, Storrs, CT 06269-3144, or by fax to 860-486-2063, or call 860-486-3530.