The School of Pharmacy has received a $781,000 grant to build an electronic medication information exchange for the state that proponents hope will be a major step forward in improving the delivery of health care in Connecticut.
Pharmacy faculty, the Connecticut Pharmacists Association, and a newly-created network of Connecticut pharmacists will use the funds to develop comprehensive medication profiles for 1,000 Connecticut Medicaid patients, and medication therapy management and adherence pilot programs for 200 Medicaid patients.
The database will contain all of a patient's pharmacy insurance claims, their medication prescription record, their lab test data and notes about potential medication allergies, over-the-counter medications, herbal supplements, and their past medication adherence rates. This electronic health information will then be available to any licensed health care professional seeing the patient at a hospital, emergency room, clinic, pharmacy, or other health care location.
The pilot program was funded to determine how well pharmacist-led medication management and adherence programs would work in Connecticut and how pharmacists can assist the state in developing a comprehensive electronic health and medication information exchange database.
The overall goal of the pilot is to improve patient health and quality of care for Medicaid patients, as well as reduce overall health care costs, says Professor Marie Smith, head of the Department of Pharmacy Practice.
"The ability to have timely, comprehensive, and accurate information about a patient's medications through the creation of an electronic medication information exchange is vital to the delivery of health care," says Smith, principal investigator for the project.
"Here at the School of Pharmacy, we believe that pharmacist-led medication management and adherence programs would be beneficial not just to the 200 Medicaid patients in the pilot project but to all residents of Connecticut."
The pilot was funded as part of a $5 million grant the Connecticut Department of Social Services received from the federal Centers for Medicare & Medicaid Services. The UConn School of Pharmacy will report its findings in 2010.
Margherita Giuliano, executive vice-president of the Connecticut Pharmacists Association, says the association is excited about the possibilities for pharmacists and patients the pilot program may have.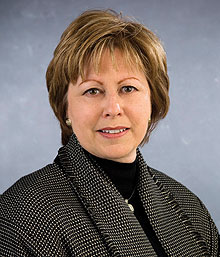 Marie Smith, head of the pharmacy practice department. Photo by Daniel Buttrey
"This project is a great opportunity for pharmacists to improve patients' quality of care and ultimately save the health care system a great deal of money," Giuliano says.
"This project will enable pharmacists to access and triage patient health information, thereby identifying medication-related problems.
"Also importantly," she adds, "this project will highlight the value of pharmacists as trained medication experts in the management of patient health care."
Medication therapy management is a relatively new concept that has been proven successful in other areas where it has been implemented.
In the late 1990's, two employers in Asheville, N.C. – the municipal government and Mission-St. Joseph's Health System – started a pilot program where specially-trained pharmacists held face-to-face meetings with employees with diabetes to educate and motivate them to better manage their condition and medications.
As a result, participating employees visited local hospital emergency departments at a rate one-third the national average. Their employers' direct medical costs declined by between $1,622 and $3,356 per participant, and one employer had an average reduction in program participant sick days of 41 percent.
In a separate project dealing with employees with hypertension (high blood pressure) and dyslipidemia (disruption in the amount of fat molecules in the blood, including high cholesterol levels), those participating in medication therapy management saw their blood pressures drop and the percentage of patients meeting their blood pressure goals increased from 40.2 percent to 67.4 percent.
Employees also saw reductions in their so-called bad cholesterol. Medication use increased three-fold, while related medical costs decreased by 46.5 percent.