A project that began as an experiment in the controller's office in 2003 – switching to electronic timecards – has led to the creation of more than a dozen other electronic programs that save time, money, and errors, while simultaneously increasing accountability and efficiency.
The workflow project takes labor-intensive, paper-based duties and puts them into an online system designed to move the job automatically from one worker to the next in a logical order, based on organizational charts and on who is authorized to perform which role. Like the timecard project, it increases speed and efficiency.
So far, workflow technology has changed the way nine processes work, including four in the bursar's office. Also completed are projects to streamline budget submissions, requests for a dependent tuition waiver, and online transfer vouchers. Four other projects are in the works, and another five – so far – are in the planning stage.
"Somebody along the line realized that using a web-based e-mail type system, we could move processes along like a train, moving from station to station," says Glen O'Keefe, University bursar, associate comptroller, and lead designer of the system for the finance division. He says the system can be initiated by a staff person or a student, depending on the task.
"It's all about speed and awareness," O'Keefe says. "Before, once you put something in a pink envelope, who knew where it went? Maybe it fell behind the desk, or under somebody's chair.
"With workflow, everybody always knows exactly where it is," he adds. "And it makes people more accountable if they are at all averse to embarrassment, because everybody who is in the loop for a particular job can see where the holdup is if things slow down."
That feature also makes the system more efficient, because staff don't have to waste time calling several people to find out where or why a certain job has been delayed. Instead, they can see where the job is on their computer monitor.
O'Keefe's office was the most recent beneficiary of the system, when several projects went online, allowing him to reassign two staff members.
One of them was installed as a supervisor at the call center, a center that didn't exist before workflow. Now, the hundreds of calls the office receives weekly go through the call center rather than directly to the main office, allowing staff to focus on their primary jobs rather than answering phones all day.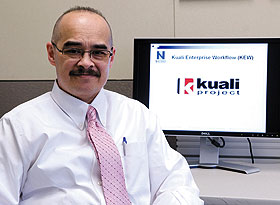 Glen O'Keefe, University bursar, at his office in Wilbur Cross Building. Photo by Jessica Tommaselli
"It's quite different from the old days, when there would be lines of students standing around waiting for service," O'Keefe says. "Now you rarely see lines of any length at the bursar's windows."
O'Keefe says UConn is one of only a handful of schools in the nation making the transition to workflow systems.
He is in the process of upgrading the software from Lotus Domino to a Kuali Enterprise Workflow system. The new system is open source software, eliminating an expense and easing fears about support in Domino in the future.
Meanwhile, programmers in the finance division and UITS are developing the Workflow Access Management program. This program sets up hierarchical flow charts that direct the process from one person to the next, in the proper order for approvals – or denials.
O'Keefe says this is the key to getting other systems to work well.
Currently, staff from several University departments are evaluating the Kuali Financial System, from which the Kuali Enterprise Workflow software originates.
A workflow task force is also looking for more work, seeking suggestions from offices on campus.
"Workflow offers a lot of exciting possibilities for reengineering how we do business, and not just on this side of the enterprise," O'Keefe says.
"A department head or dean might not know what workflow is, but if they see it, they're going to say 'Ah, I know how I can use it on the academic side.'"