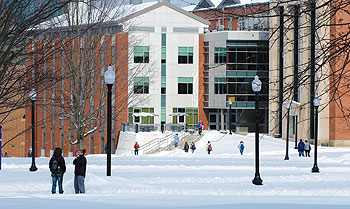 A winter view of students walking across the Student Union Mall near the Gentry Building. Photo by Peter Morenus
Photo Extra
Sandra Ek, a horticulturalist at the EEB Greenhouse checks out a blooming Angraecum sesquipedale, or Comet Orchid. The orchid, which grows in Madagascar, was described by Darwin. Photo by Peter Morenus
February 2, 2009 ¦ Volume 27, No. 18
Creation of new human embryonic cell lines announced
UConn researchers have created two new human embryonic stem cell lines and are making the lines available to academic researchers to study the therapeutic potential of the cells. Read more...
Two liberal arts faculty receive NEH fellowships
Two faculty members in the College of Liberal Arts and Sciences have received National Endowment for the Humanities (NEH) fellowships to undertake scholarly projects. Read more...
Developmental brain disorder can be reversed, say researchers
Research by a UConn neurobiologist has demonstrated that a developmental brain disorder that causes a predisposition to seizures can be reversed. Read more...
Online education expert calls for new approach to teaching
Fedro Zazueta, director of academic technology and online education at the University of Florida, says that to be effective in preparing students as 21st century professionals, faculty must teach differently. Read more...
More headlines...

Multimedia...

RSS Feed of the UConn Advance

News Links

UConn News | UConn Health Center News | UCONN Magazine Athletics News

How To...

Suggest a story idea: please send e-mail to advance@uconn.edu, with "Story Idea" in the subject line. Please give as much notice as possible, and at least two weeks. Requests will be considered based on relevance to a broad audience and the availability of resources.

Have an event listed in the Advance Calendar section: please enter it online at events.uconn.edu at least two weeks prior to the date of the event. Please note that the Advance Calendar contains only events occurring during the week beginning with the date of publication.

Request permission to re-use a story or photo: please send e-mail to advance@uconn.edu, with "Re-use Request" in the subject line.

Make a change to the mailing list, please send e-mail to advance@uconn.edu, with "mailing list update" in the subject line. Please note that the Advance does not maintain separate mailing lists, but uses the databases maintained by the human resources departments at Storrs and at the Health Center. If you do not have access to e-mail, please send your request in writing to Advance, University Communications, 34 North Eagleville Road, Storrs, CT 06269-3144, or by fax to 860-486-2063, or call 860-486-3530.