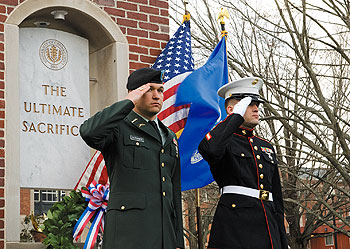 UConn students Dymitri Dutkanicz, left, a U.S. Army veteran, and Dimitry Nussberg, a Marine Corps veteran, salute in front of the new memorial during the Veterans Day ceremony on Nov. 10. Photo by Frank Dahlmeyer
Photo Extra
Author and alumnus Wally Lamb launches a national book tour for his new novel, The Hour I First Believed, at the UConn Co-op on Nov. 11. Photo by Frank Dahlmeyer
November 17, 2008 ¦ Volume 27, No. 13
Publication Notice: The Advance will not be published on Nov. 24, owing to the Thanksgiving break. We will resume publishing on Dec. 1. Have a happy Thanksgiving!
Cost savings task force established by President
In response to the economic recession, University President Michael J. Hogan has announced a broad-based effort to identify cost savings, efficiencies, and revenue enhancements. Read more...
Beta blockers reduce risk of heart attack, increase stroke risk, large-scale study confirms
In one of the most stringent studies to date of the popular blood pressure-lowering drugs known as beta blockers, researchers at the UConn/Hartford Hospital Evidence-based Practice Center have confirmed that these drugs reduce the chances of a heart attack following non-cardiac surgery but increase the risk of having a stroke. Read more...
Diversity committee established by Senate
The University Senate has established a new committee to focus on diversity. The committee, which will meet monthly and will report to the Senate annually in April, brings the total number of Senate standing committees to eight. Read more...
Researcher exploring strategies for preventing colon cancer
Daniel Rosenberg is trying to figure out why some early colon lesions are suppressed by non-steroidal anti-inflammatory therapy, while others seem to thrive under similar conditions. Read more...
More headlines...

Multimedia...

RSS Feed of the UConn Advance

News Links

UConn News | UConn Health Center News | UCONN Magazine Athletics News

How To...

Suggest a story idea: please send e-mail to advance@uconn.edu, with "Story Idea" in the subject line. Please give as much notice as possible, and at least two weeks. Requests will be considered based on relevance to a broad audience and the availability of resources.

Have an event listed in the Advance Calendar section: please enter it online at events.uconn.edu at least two weeks prior to the date of the event. Please note that the Advance Calendar contains only events occurring during the week beginning with the date of publication.

Request permission to re-use a story or photo: please send e-mail to advance@uconn.edu, with "Re-use Request" in the subject line.

Make a change to the mailing list, please send e-mail to advance@uconn.edu, with "mailing list update" in the subject line. Please note that the Advance does not maintain separate mailing lists, but uses the databases maintained by the human resources departments at Storrs and at the Health Center. If you do not have access to e-mail, please send your request in writing to Advance, University Communications, 34 North Eagleville Road, Storrs, CT 06269-3144, or by fax to 860-486-2063, or call 860-486-3530.