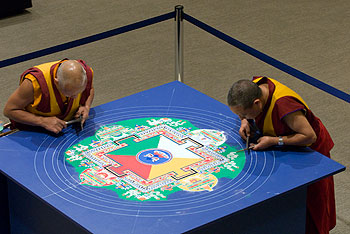 Tibetan Buddhist monks from Namgyal Monastery Institute of Buddhist Studies in Ithaca, N.Y., create a sand mandala in the William Benton Museum. After its completion Nov. 9, the mandala will remain on display until Dec. 7. Photo by Frank Dahlmeyer
Photo Extra
Geno Auriemma, head coach of the UConn Women's Basketball team, signs autographs for participants in the sports health program for young female athletes at the Health Center. Photo by Michael Fiedler
November 10, 2008 ¦ Volume 27, No. 12
Panelists analyze presidential election
Momentous, memorable, innovative. Those were among the reactions by UConn experts to last week's presidential election. Read more...
Students turn out to vote in record numbers
The campus voter registration drive was highly successful, with more than 5,200 voting in Mansfield Precinct One, compared with just over 3,700 in 2004. Read more...
New director named for Global Fuel Cell Center
Prabhakar Singh, a researcher with the Pacific Northwest National Laboratory in Richland, Wash., has been named director of the University's Connecticut Global Fuel Cell Center, following an international search. Read more...
Injury prevention advice offered to female athletes during health program
More than 100 adolescent athletes and their parents learned from Health Center faculty about a syndrome known as "the female athlete triad," what they can do today to avoid osteoporosis as adults, and how to reduce their risk of tearing a major knee ligament. Read more...
More headlines...

Multimedia...

RSS Feed of the UConn Advance

News Links

UConn News | UConn Health Center News | UCONN Magazine Athletics News

How To...

Suggest a story idea: please send e-mail to advance@uconn.edu, with "Story Idea" in the subject line. Please give as much notice as possible, and at least two weeks. Requests will be considered based on relevance to a broad audience and the availability of resources.

Have an event listed in the Advance Calendar section: please enter it online at events.uconn.edu at least two weeks prior to the date of the event. Please note that the Advance Calendar contains only events occurring during the week beginning with the date of publication.

Request permission to re-use a story or photo: please send e-mail to advance@uconn.edu, with "Re-use Request" in the subject line.

Make a change to the mailing list, please send e-mail to advance@uconn.edu, with "mailing list update" in the subject line. Please note that the Advance does not maintain separate mailing lists, but uses the databases maintained by the human resources departments at Storrs and at the Health Center. If you do not have access to e-mail, please send your request in writing to Advance, University Communications, 34 North Eagleville Road, Storrs, CT 06269-3144, or by fax to 860-486-2063, or call 860-486-3530.